How to help with the move into a care home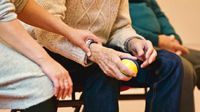 Do you need to help someone move into a care home? Are you worrying about how best to go about it? If you have a close relative who is moving into residential care, they are likely to need a lot of support, but there are a few things you can do to help with the transition.
Involvement
As much as is possible, it's important that your relative is given time to consider the move, and is involved in the decisions made about their care. Giving them choice and control in the decisions, without pressure being placed upon them.
Communication and information
Clear and open communication is crucial. Let your relative ask all of the questions they want to and express their feelings about the move. If communication is difficult, then think creatively about how it can be achieved if speech is difficult, try a notebook and pen, if writing is difficult, try a word board.
Look at the website CareHomeAdvisor to search for possible care homes, and find out how they are rated by the Care Quality Commission. Provide information about the care home or choice of homes to your relative, in a way that is easy to take on board and visit them if possible.
A temporary visit
It's not possible in all circumstances, but one way in which you can assist your relative is to arrange for them to stay in the care home for a few days before their permanent move. Temporary visits can also be helpful if you are still in the process of choosing a home and want to find the right one. A short visit can help your relative familiarise themselves with the home and prepare themselves for the move. A tour with a current resident would be a good compromise is a short stay is not possible.
Leaving your home
The transition to a care home may be happening straight from a hospital or as a result of a crisis intervention, but if possible, facilitate a visit to the home your relative is leaving. Also, check what belongings they can take to their care home and choose them together. If a few familiar pieces of furniture can go with them, a favourite chair or a small bookcase, for example, that's ideal, as the more familiar their surroundings, the better. Also, take photos and pictures to decorate their room. If taking furniture is not possible, put together a photo album and a memory box of small but resonant items.
Staff
Take the time to introduce your relative and the rest of your family to the staff, so that you and they are all familiar faces. It's also helpful if your relative has a named member of staff who is designated as their main carer, with whom they can raise any concerns.
Neighbours
Encourage your relative to get to know their new neighbours and other fellow residents, so they can forge new friendships, find support and empathy in their new home.
Engagement
In addition, encourage them to make the most of any activities on offer in the care home, to help them maintain as good a quality of life as possible and to help them feel engaged.
Continuity
Efforts should also be made for your relative's life outside of the home to continue, so friendships and activities they've enjoyed throughout their life can be maintained.
Family
It's also of paramount importance that family relationships are maintained, so regular visits, outings and shared meals either at the care home or elsewhere, should be given priority.
It's never going to be easy, but we hope these steps, where they are possible, will help make the transition into a care home a less stressful experience for all of you. For assistance in finding the right domiciliary or residential carer, call specialist recruitment agency Employ Social Care today.