Stamp Duty paid during open weekend as Barratt showcases two final homes at Reflections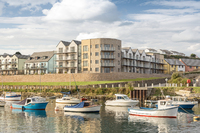 Time is running out for buyers seeking new homes at the exciting Reflections development in Plymouth.
The Barratt Homes site is proving so popular that just two of its spacious designs now remain. And a heavy flow of potential buyers is expected for a special open weekend on Saturday 12 and Sunday 13 August - with Stamp Duty paid for those reserving during their visit.
"Reflections offers the perfect setting for this stylish selection of beautiful new apartments," said sales director Sara Parker. "And it seems that many of our buyers agree with us - with just two properties now awaiting new owners.
Situated within Compass Point at Reflections the final pair of two-bedroom apartments are priced from £239,995. The homes each feature a high specification kitchen and designer floor-ing throughout. The living areas' open plan layouts offer the chance of tranquil living and lakeside views. The apartments' two bedrooms are doubles, with en suites to the masters, and each offers an attractive family bathroom.
The homes also offer a full-length balcony - allowing further access to the beautiful views sur-rounding Reflections.
"Both apartments are perfect for a range of buyers," added Sara. "I don't expect these impres-sive new homes to be available for very long - particularly now that we've promised to pay Stamp Duty for those visiting during our open weekend. I urge interested buyers to visit us then for a closer look at what could very definitely be their dream home."
Reflections is a development of high specification two-bedroom apartments overlooking Hooe Lake in Plymouth - a wonderful haven for wildlife and nature. Nearby services - including a convenience store, two pubs, newsagents, post office and well-regarded primary school - pro-vide a close-knit village atmosphere. And more local amenities can be found just a short drive or bus journey away in the suburb of Plymstock.
For more information about homes at Barratt developments in and around Plymouth, visit barratthomes.co.uk.