Nurseries to offer 30-hours free childcare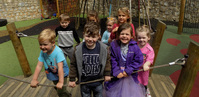 Nurseries in the South West have announced plans for offering parents 30 hours of free childcare per week, in line with a new government scheme.

Due to come into force in September, the Extended Entitlement scheme aims to help parents of three and four year olds get back to work.

With nurseries free to decide on the level of provision they offer and indeed whether to even offer the scheme at all, parents are being encouraged to do their research and find the best model for them.

The Mama Bear's Day Nursery and Pre-Schools, which can be found across Bristol, Somerset and Devon have launched their policy, which is designed to help the maximum number of families take advantage of the scheme.

The nurseries are part of a family-run group which has 15 nurseries in Bristol, three in Paignton, two in Plymouth, one in Torquay, one in Taunton and one in Yeovil, and the offer is being delivered throughout the group.

Owner Tony Driffield explains: "We are delighted to be providing the 30-hours funding to our families and have come up with an extremely flexible and competitive model which we think will be very appealing to many working parents.

"Our families will be able to choose between using their entitlement either all year round or during term-time only, which will be preferable to those who work in schools or nurseries themselves.

"Because the scheme is only part-funded by the government, some nurseries are resorting to charging top-ups to cover their expenses, for instance by charging for meals.

"We believe that meals are an integral part of the curriculum and a big part of the nursery day so we don't want to see parents opting their children out of this.

"Our policy is completely free of charge with no hidden charges or requirement to commit to additional sessions or other costs.

"Our model is also very flexible in terms of the sessions parents can choose, they're not stuck to a rigid AM/PM schedule. Parents can access any of our sessions although if they choose the term-time only option these will be restricted to five or 10 hour sessions only.

"They can use their entitlement in isolation or add additional paid-for sessions as needed and they can split their entitlement across different providers if that suits."

Parents with a combined average income of £240 or more per week and who each earn under £100,000 are eligible if their child is three by 31st August 2017.

The Department for Education estimates 390,000 parents will meet the criteria for funding.

Tony continued: "As a family run and owned business we are passionate about providing a really flexible package to fit in with working families' lives. This is a fantastic scheme and we really hope it will help parents get back into work at the same time as creating demand for nurseries.

"All of our nursery managers are happy to help with any funding queries parents may have and the dedicated Childcare Choices website is also really helpful. My advice to parents is to shop around and find the best provider to suit their lifestyle which also offers high-quality early education and childcare."

For more information on the 30-hours free childcare scheme visit childcarechoices.gov.uk.

For more information on Mama Bear's Day Nurseries and their 30-hours funded sessions, visit mamabear.co.uk.