Outdoor activities to keep the kids occupied this summer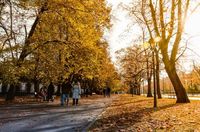 Looking for outdoor activities to keep your children entertained this summer? Then here are a few ideas to help you get started:
Grow your own
There's nothing more satisfying than growing your own. So step outside with your kids this summer and grow your own fruit and veg. Encourage your children to eat more fresh, healthy foods by engaging them in the growing process.
Not to worry if you think you've missed the sowing dates for some vegetables, there's lots of advice available online regarding crops to grow all year round. You could also buy plants to grow on, and still, enjoy harvesting your very own fruit and veg later in the year. There's nothing like nurturing a plant, seeing it grow, harvesting the crop and cooking it yourself, to broaden a palette.
Tantalising treasure hunts
Devise a treasure a hunt to encourage your children to enjoy the great outdoors. Decide on your final treasure, then work backwards writing the clues. You could pick up on your children's interests or the topics they're studying at school.
Alternatively, join the world's biggest treasure hunt and sign up to the geocaching website. Your adventure awaits just a few clicks away when you join thousands of enthusiasts worldwide. With millions of geocaches across the globe, you're bound to find some treasure in your neighbourhood.
Old fashioned 'wide' games
Enlist family and friends to partake in some old fashioned wide games. They're perfect for burning off pent up energy. If your memories of the school playground don't suffice, look online to remind yourself of some of these engaging games. The scout association is a great place to start.
Set the best pop up canopy in your garden, to give the grown-ups a place to sojourn and a little respite whatever the weather. Pop some drinks and snacks in there too, so you all have some refreshments to hand.
Chalk games rule
With just one piece of chalk, you and your kids can enjoy a variety of games from Hopscotch to Bullseye and many more besides. Hopscotch is a game that's been enjoyed by kids for over three hundred years, and it's no less appealing today, however, if you want to make it more of a challenge, simply space the squares further apart. Once you've had enough of skipping, hopping and running about, use your chalks to create a temporary art gallery on your patio or pathway.
Get sporty
Encourage your kids to try out a new sport this summer or take their existing sporting pastime to a new level. Look out for summer courses, coaching and taster sessions in your neighbourhood to develop their sporting skills. If competitive sports don't appeal, why not set out on a family bike ride.
Walk on by
Whether you're exploring your holiday destination or you want to get and about in the countryside close to home, step out on a walk with your family this summer. From the dramatic coast to a Lakeland fell or a city park, they'll be a walk to enjoy wherever you are. Pack a picnic to have on the way, stride out and explore.
So there you have some outdoor activities for the whole family to enjoy this summer, now it's time to get started.