Honda announces next delivery of NSX to UK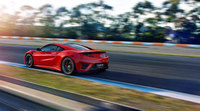 Honda UK has confirmed the next delivery of NSX bound for UK shores. Launched last summer, the NSX has been a solid success story for the UK market and Honda has already sold through its first allocation of just 100 cars in the first 12 months.
At launch last summer, Honda announced the initial cars would be delivered to the launch customers over a two year period. With this second allocation of 50 cars heading for the UK, potential customers will be able to get their hands on the new NSX in mid-2018 onwards.
With demand still far exceeding the capacity for supply, and whilst still scarce and a rarity on the roads, Honda has confirmed the waiting time for the car is now just 12 months.
Originally starting with just Crown Honda in Hendon as the sole supplier and aftercare specialist, Honda UK has since appointed Chiswick Honda as the UK's second dealer for the NSX to ensure the business continues to offer a strong customer sales and aftersales experience.
Dave Hodgetts, managing director of Honda UK, commented: "The NSX represents both the pinnacle of engineering for Honda when it comes to road cars and also continues the heritage of Honda's original NSX supercar produced between 1990 and 2005, which makes it all the more sought-after. The confirmation of this fresh allocation to arrive in the UK next year will allow the die-hard fans that haven't been able to get their hands on the latest NSX to finally get their wish – all they need to do is get in touch with either Crown Honda or Chiswick Honda."
Starting from just under £150,000 and made in Marysville Ohio by a highly specialist team of just 100 people, the NSX boasts 573hp and is capable of reaching speeds of up to 191mph and the 0-62mph sprint in less than three seconds. Powered by a 3.5 litre DOHC V6 engine and three electric motors, the NSX uses four different modes to adjust the driving experience, with the integrated dynamic system (IDS) featuring Quiet, Sport, Sport + and Track, all of which alter the engine, motor, transmission, chassis response and engine sound level to differing levels.
With deliveries of the first customer cars in autumn last year, Honda confirmed ahead of launch that Europe would be the leading export region for sales of NSX.