9 things you can hire to make your event stand out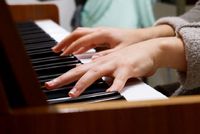 Whether the event you are planning to hold is a modest birthday party, a touching wedding, a straight-laced business meeting or something else, discerning how to make it stand out could prove a struggle. Here are some ideas for leaving the right kind of impression on your guests.
Suitable venue
The obvious choice might not necessarily be the best one. If the event will be a conference, for example, Corporate Awards advises that you seek a venue with a "wow factor". Even the geographical location could help provide this - as could lighting and music...
Professional DJ
Since we have mentioned music, it seems appropriate to recommend hiring a professional DJ who could decide what is played and when. What ambience are you aiming for? Whether the answer is restrained, surreal or something else, a DJ could help you strike a balance that seems just right.
Piano
It's not only in Jane Austen novels that a piano at close hand can come in delightfully useful. You could hire a piano from a company like Coach House Pianos. Whether you arrange for that instrument to be played by a skilled piano player or by regular attendees, you could be pleasantly surprised at how much excitement that piano generates.
Professional event planner
While you might not love the idea of relinquishing control over your event, a professional event planner can provide honest feedback, Eventistry by Alecia points out. Such a planner could also assist you in meeting all of your necessary obligations and properly synchronising ideas.
Well-known speaker
Aim to hire a speaker who is not merely well-known, but also genuinely interesting to many people. Should their social media following be strong, you could - assuming that your event is a public one - ask them if they would advertise this event and their appearance at it on their social media feeds.
Local band
Is there a promising band that you genuinely like and is locally-based? Then aim to hire that band - it could lead to previously indecisive people going ahead with attending, says Attendee Events. The event could be further promoted when local press publicises that band's appearance there.
Promotional staff
It can pay to think carefully about a theme when you hire promotional staff. If the event will be in the summer, you could have members of that staff walking around your venue while offering ice creams - or, if the festive season will be when the event happens, mince pies.
Ice cream van
Sticking with the food theme, you could go even further by hiring an entire ice cream van. It could certainly make a fun and unexpected element of your event; if children will be coming along, you can probably already easily imagine their eyes lighting up as they see that van!
Screens showing live social media feeds
Attendees could tweet remarks about the event and all use a particular hashtag in the process. The messages could then appear on a live feed that everyone can see on a large display.