Gender gap prevails in the classroom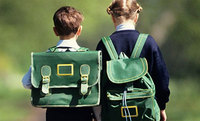 While gender stereotypes continue to be challenged both inside the boardroom as well as in the home, it seems that in the classroom, pupils still follow the gender divide. Indeed, Mintel's Lifestyles of Children and Teens UK 2017 Report reveals that while boys aged 7-15 in the UK prefer maths and science, girls of the same age favour arts and humanities subjects.
When asked which three subjects they most enjoy at school, 49% of boys aged between 7-15 say that IT/computing is among their favourite subjects, followed by 47% who favour sport/PE and 41% who like maths. For girls, however, 43% say that art is one of their favourite subjects on the timetable, followed by English (32%) and music (23%).
In comparison, while IT tops the list for boys (49%), just 26% of girls say this is one of their top three favourite subjects, while a slim 29% of girls favour maths and 30% sport. Meanwhile, although art is the favourite subject for girls (43%), just 19% of boys say this is one of their favourites, followed by English (16%) and music (12%).
Beyond the classroom, it seems there is a clear boy/girl divide when it comes to kids' views of certain career paths. Indeed, 44% of children aged between 7-15 say that being a plumber/builder/electrician is "for boys", while just 5% say this is a job "for girls".
However, it is not all bad news for science-related professions, as being a doctor is equally likely to be associated with being "for boys" as it is "for girls" (17% respectively). On the other hand, when it comes to teaching, stereotypes re-emerge, with one in five children (19%) viewing teaching as a job "for girls", compared to 16% who say the profession is "for boys".
Jack Duckett, Senior Consumer Lifestyles Analyst at Mintel, said: "While the UK has taken huge steps in terms of equality over the last 50 years, gender stereotypes remain apparent among today's children and teens, as shown by their continued belief that certain subjects and professions are more suited to one gender or the other. As gender equality becomes an increasingly pressing issue for businesses and society alike, there are opportunities for brands to create campaigns that openly challenge these stereotypes at a young age, helping to drive further improvements in gender equality for the future."
Furthermore, Mintel research highlights that when it comes to "boys" and "girls" jobs around the home, it's not just Theresa May who has set opinions, as UK parents express less confidence in boys' domestic skills. While two in three (65%) parents with girls aged between 7-15 are confident in their daughter baking without any adult help or supervision, this sinks to just 46% of parents of boys. Meanwhile, some 44% of parents say that they would be confident with their daughter's ability to cook a meal without supervision, but this falls to just 37% of those with sons. Additionally, while one in three (34%) say they would be confident in their daughter's ability to wash clothes, this falls to one in four (25%) of parents with boys.
This underpins previous Mintel research on Families, which reveals the imbalance of household chores within the home, with 79% of mothers saying they took responsibility for household chores on a typical weekday evening, compared to just 38% of fathers.
"Overall, parents are less confident in their sons' ability to carry out domestic tasks, such as cooking, baking and doing the laundry without help, compared to their daughters'. This arguably underpins a gender gap in household chores that continues to be prevalent across UK homes. There has been much discussion around how the confidence gap between genders is preventing some women from achieving all they can in the workplace. But it could also be argued that the inverse trend is undermining increased participation by men in the home. For marketers, this discrepancy poses an interesting opportunity to create campaigns that will encourage parents to ensure that their sons are as equipped with household skills as their daughters." Jack adds.
Finally, it seems that childhood in the UK today is far from carefree, as 78% of children aged between 7-15 experience worry. While their studies currently cause the most angst, with 44% of children saying they get worried about their schoolwork, relationships with friends are causes for concern for 39%. Meanwhile, a quarter (25%) of children worry about their family having enough money, 12% worry about social media and 7% say they worry about politics in the UK.
What's more, among teenage girls, it seems that anxiety over appearance is suffered by a significant proportion. Indeed, while overall 24% of children and teens say they worry about their appearance, this soars to 52% of girls aged between 13-15.
"Our research shows that appearance worries peak among teenage girls. In response to this, a number of brands, particularly from the beauty and personal care industry, have launched campaigns centred on helping girls to build their self-esteem. While social media has often been seen as the self-esteem villain, its increasing omnipresence means that it could also prove a useful tool for brands looking to engage with kids and teens on the issue of appearance." Jack concludes.