A magical underground kingdom is coming to life this Christmas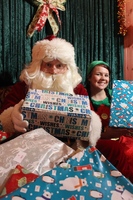 Families looking for a place to make special Christmas memories are being encouraged to visit Wookey Hole Caves this festive season, where real reindeer and a magical underground winter wonderland await.
The magic of the North Pole is coming to life at the Somerset tourist attraction as over 100,000 twinkling Christmas lights are being installed for an all new cave illumination and the biggest Santa's Grotto in the West is constructed.
Visitors will meet Santa and his real reindeer for an unforgettable Christmas experience at Wookey's Magical Kingdom, which includes a viewing of 4D festive movie, Sleigh Ride.
Festive characters will provide a seasonal twist on the usual infamous cave tour as visitors explore the recently opened new caverns and tunnels.
Opening between Saturday 18 November 2017 and Sunday 07 January 2018 the Magical Kingdom will include a meeting with Santa and a wrapped present for every child.
A special Christmas-themed Circus Show will be performed daily at 1pm and 3pm by talented artists in the circus school who will show off their skills in trapeze, silks, unicycling, juggling and much more.
Managers at the popular South West attraction say the magnificent Magical Kingdom, which has been created in the vast network of caves and tunnels, is unlike any other Christmas wonderland children will see this year.
Wookey Hole's Daniel Medley said: "We have so much going on at Wookey Hole Caves this Christmas that there's almost too much to talk about! It is a festive experience like no other and we guarantee that families won't be disappointed by the line-up.
"Meeting Father Christmas and going to a grotto is a time-honoured tradition at this time of year, but often the whole experience is over within half an hour and people are left scratching their heads as to what to do next.
"The Wookey Hole Magical Kingdom is a full day out with indoor, outdoor and even underground experiences to enjoy. From the grotto and the reindeer, which can be found in our beautiful valley surrounded by the Mendip Hills, to the festive light show, Christmas cave tour and seasonal circus show there is over 20 fantastic attractions included in each visit.
"We've planned a truly unforgettable day to be remembered for years to come and hope that the combination of the natural beauty of our setting and the sprinkling of magic we have installed will be enjoyed by all."
As of 27 December, Santa will no longer be in residence at Wookey Hole Caves, but until 7 January children can meet the Walkabout Wizard instead.
Other 20 attractions available for visitors at Wookey Hole include the mirror maze, fairy garden, play castle, penny arcade, pirate adventure golf and of course the Witch of Wookey herself. A two-course Christmas dinner served by Santa's elves will be available in
Captain Jack's Restaurant.
Tickets cost £15 each (under 3s £2.50) and can be pre-booked on the website. Pre-booked tickets also include a personalised invitation from Santa. All visitors to the Magical Kingdom over Christmas will also receive a free return visit.
For those who want to make a holiday of it a Santaland short break starts from £140 per room including bed and breakfast, tickets to the Magical Kingdom, evening access to play areas and fun packs for the kids.
For more information or to book visit wookey.co.uk.