Amazon Echo Show - the first Echo with a display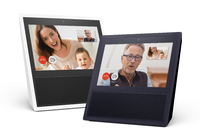 Amazon has announced that Echo Show, the first Echo to include a display, is now shipping in the UK.
Echo Show's display is designed to add to Alexa's voice responses with useful, glanceable information you can see from across the room. The display combines with an all-new 8 microphone array along the top of the device, Amazon's beam-forming technology, and noise cancellation, so Echo Show can hear you from any direction–even while music is playing. Powered by Dolby, Echo Show's speakers are fine-tuned to deliver crisp vocals with dynamic bass response and immersive sound. And, with multi-room music, you can play music across multiple Echo devices simultaneously.
Now Alexa can show you things
With the addition of the screen, Alexa can now show you things. Flash briefings now include video content from favourite news providers like BBC News, The Telegraph, MTV and more. You can start a kitchen timer and see it count down, easily see and manage your family's calendar, or ask to see your to do and shopping lists. Ask Alexa to show you photos, movie show times, and movies and TV shows from Amazon Video. Plus, as you listen to music from Amazon Music, you'll also see song lyrics and album art. Customers can also use Echo Show to see a live camera feed from the nursery or your front door, or to control smart home devices from brands like Ring, Arlo, Philips Hue, Hive, TP-Link, Netatmo, WeMo, Smart Things, and Tado.
Alexa calling and messaging—stay connected to your friends and family
Echo Show also features Alexa calling and messaging—a new way to be together with your friends and family. Just ask Alexa to call mum, and you'll be connected via video to her Echo Show or Alexa app. You can also enable a feature called Drop In for when you want to quickly connect with your closest family and friends or other Echo devices in your home. For example, you can drop in to ask what time dinner will be ready, see the family room, or check in with a close relative. With Drop In, you're always in control—turn it off at any time, select who is allowed to Drop In on you, and choose which devices are available for Drop In.
Alexa is always getting smarter—all-new skills from OpenTable, Just Eat, BBC News and more
Alexa—the brain behind Echo Show—is built in the cloud, so she is always getting smarter. Alexa connects through the cloud automatically and is continually learning, adding new functionality and skills. Like Echo and Echo Dot, customers using Echo Show can access thousands of Alexa skills, with new skills from OpenTable, Just Eat, National Rail, Mercedes, BBC News, The Telegraph, Evening Standard, LBC, MTV, 7Digital, Recipedia, Mail Recipes, Sky Sports Super 6, Liverpool FC, Arlo, Ring, and more—all optimised for the display.
Echo Show is available in black or white for just £199.99. Customers can also choose a 2-pack—buy 2, save £100.00. More information is available at amazon.co.uk/echoshow. Echo Show is also available at retailers including Argos, Dixons, John Lewis and Tesco.