Brand new £50k multilingual OnePay company website launched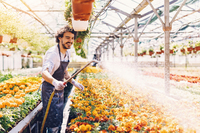 One of the UK's leading providers of alternative payment solutions has launched a brand new website. Yorkshire business, OnePay, relaunched onepay.co.uk in mid-December to offer more complete service and support, in multiple languages, to customers and clients.
Costing £50k to complete, the new site offers professional multilingual support in six languages; English, Bulgarian, Russian, Romanian, Polish and Lithuanian, ensuring customers can easily access the information they require in their mother tongue.
Founded in 2007, the company enables efficient payment to those without access to UK banking such as temporary or seasonal workers. Based in Ilkley, the company employs 45+ staff and has a national client base.
James Krueger, marketing manager at OnePay, said: "This year sees us celebrate 10 years in operation so relaunching the onepay.co.uk website is an important and pivotal move for us. The website offers users the benefits of enhanced multilingual support and access to their online account to view their account details and balance, offering additional peace of mind and control.
"Our customers do not often speak English as their first language, so being able to offer them support in their native tongue ensure help is always available to them. It also helps break down communication barriers between our customers and their employers.
"We make paying temporary and seasonal workers very straightforward, cutting out unnecessary administration for businesses and agencies, and ensuring workers are paid efficiently. There is more functionality, including an all new customer and client portal to be added to the website next year, so keep your eyes peeled to find out more."
OnePay works with firms and recruitment agencies, enabling fast and direct payment to employees who are provided with a OnePay account to access and spend their earnings. The account offers the security of sort codes and individual account numbers for direct access, to those who don't have a UK bank account.
The OnePay account prepaid Visa card is issued by Raphaels bank and licensed by VISA, providing businesses and employees with payment peace of mind without the added hassle of cheques or cash payments.
OnePay works closely with the Association of Labour Providers (ALP), to manage and protect workers.
For further information and to explore OnePay's new website, please visit onepay.co.uk.