Is 2018 the year when professional gaming will hit the mainstream?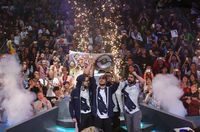 The idea of playing video games for a living might have once been regarded as a teenager's greatest fantasy, but these days it has very much become a reality. Whether you are an avid gaming fan or someone who simply chooses to dip their toes into the biggest releases like Call of Duty or Halo now and then, you are sure to have heard of the concept of eSports and professional gaming.
While gaming tournaments of varying sizes have existed in many forms down the years, the past decade or so has seen a real shift in the professionalism and structure of such events. The internet has of course played an important part, with it often being fundamental to the major online multiplayer games like Dota 2 and Counter-Strike: Global Offensive which have gone on to dominate the eSports scene.
The past 12 months or so have arguably seen eSports reach unprecedented new heights which few could have anticipated. Research released by Newzoo at the start of 2017 predicted that revenues in professional gaming would reach a mammoth $696 million across the year, with the figure expected to then grow to an incredible $1.5 billion by 2020 as brand investment increases. However, new research from SuperData Research has now suggested that global eSports revenues for 2017 have in fact already reached the $1.5 billion mark, with this expected to grow 26 per cent by 2020 as an "even more mainstream audience" is drawn to the industry.
The issue of the "mainstream" is one which gets raised time and time again in relation to eSports. While the industry has a huge fanbase and is in the rudest health – the flagship Dota 2 competition The International had a prize pool of more than $24 million last year – it has still not been fully embraced by the general public at large. Will 2018 finally be the moment when it makes the breakthrough? Well, there are certainly fairly strong indications that this could well be its big moment in the spotlight.
Attracting big business
One major development in the last couple of years has been the increase in mainstream brands embracing eSports. In recent times, we have seen the likes of Mercedes-Benz and Gillette sponsor events, while Audi also entered the fray last year with its backing of the major Counter-Strike: Global Offensive team Astralis – a deal which saw the side actually change their colours in order to come in line with recent marketing and branding used by the German car manufacturer.
There has also been significant investment in general in eSports, with one of the more recent developments being Asus reportedly looking to set up an eSports base in China. However, rather than just focusing on products, it is believed the computing company in fact has a major eye on making its mark in general by developing a foothold in the industry. Some have suggested this could even include organising events or player training. Furthermore, much like in the traditional sports world, eSports has also, in recent years, spawned an offshoot betting scene, with a growing number of traditional betting companies as well as others like bets.io now offering odds on the outcome of all of the brand new tournaments held in relation to a range of games across the globe.
While businesses have been making inroads to the industry for several years now, one development which has really caught public attention in recent times has been the number of high-profile stars from a range of backgrounds who have also invested in eSports. Formula One driver Fernando Alonso is known to have gotten involved, although arguably the most eye-catching news came when it emerged that none other than Jennifer Lopez also had an active interest in professional gaming too. As much as we would love to think that the actress and singer has developed a taste for League of Legends and StarCraft II in recent years, her involvement is sadly a bit more business-orientated than that,j as she has invested in a team - RNG eSports - which will play a part in one of the year's most anticipated new eSports competitions.
The phenomenon of Overwatch
Overwatch may have only been released in 2016, but it has already become a true gaming phenomenon. As well as winning the New eSports Game of the Year at the eSports Industry Awards 2016, the first-person shooter is also thought to have reached an incredible 35 million players in less than two years. Considering the game's huge popularity, its creators Blizzard were quick to move to put a clear structure in place for eSports events based around the title, with the flagship Overwatch League getting underway for the first time this year.
Originally announced at the BlizzCon event held in November 2016, the competition has been described by Blizzard as the first major global tournament in eSports to revolve around city-based teams in a manner similar to traditional sports. The 12 team franchises involved are permanent members of the competition, with nine originating from the US and the three others coming from England, South Korea and China respectively. This is where J-Lo comes in, as she has given her backing to San Francisco Shock and was even involved in the team's roster reveal alongside basketball star Shaquille O'Neal.
The involvement of such major stars from outside of the eSports scene in such an announcement perhaps shows just how the professional gaming world is changing and ultimately edging ever closer to mainstream attention. Overwatch has been viewed for some time as one of the big hopes for eSports to enjoy crossover success and the new league will no doubt get a little bit of help in that department with one of the title's best-known characters set to make her big-screen debut in the coming months.
Based on the bestselling book by Ernest Cline, Steven Spielberg's new film Ready Player One will follow the adventures of a young hero as he attempts to find a digital "easter egg" hidden in an incredibly immersive virtual reality world called OASIS. The book is rife with pop culture references so there has been much anticipation about which characters from across TV, film and gaming might make an appearance in the blockbuster. A recent trailer shed some light on the issue, with the likes of Back to the Future's famous Delorean, the Iron Giant, the DC Comics villain Deathstroke and Lara Croft all featuring in the teaser's footage. However, many people were stunned and excited to see Overwatch's very own Tracer included in a line-up of characters.
The time-jumping adventurer's appearance in a major movie is undoubtedly another sign of the huge cultural impact that Overwatch has made in the brief time since its launch and all eyes will be on the size of the role she may play when Ready Player One hits cinemas in the US in March.
Fantasy and reality collide
There is more to eSports' march towards the mainstream than big name celebrities and movies however, with the likes of Formula One raising a very tantalising prospect as they bring their own professional gaming scene closer to real-world racing action in a truly exciting way.
The organisation recently announced that its F1 eSports World Champion Brendon Leigh, who won the inaugural competition in Abu Dhabi in November, will take part in a new eRace of Champions event in Saudi Arabia in February which will feature a combination of virtual and real-world challenges. The winner of that forthcoming event will then get a place in the main Race of Champions event, where they will then go head-to-head in real vehicles against some of F1's biggest stars.
Such a move is fascinating, as it not only gives an eSports player an unprecedented opportunity to test their skills but will also demonstrate to fans of real-world F1 how the gaming scene is developing and the talent that it possesses. Such a step will surely only serve to raise the profile of the F1 eSports scene and may encourage many fans of the real thing to go and check it out.
A huge year for eSports
Last year was a massive one for eSports, with the industry continuing its seemingly unstoppable growth and becoming bigger and better than ever before. However, we may only be a few days into 2018 but already the year is shaping up to be perhaps even more important in the development and evolution of professional gaming.
With major new competitions, big-name backers and even movie appearances in the pipeline, the profile of eSports is set to go through the roof in a way that not many people may have anticipated even just a decade ago. But will it ultimately culminate in professional gaming finally being embraced and accepted by the mainstream? It is difficult to say.
However, one truth that simply cannot be denied at this point is that eSports' time in the sun is coming. If Jennifer Lopez believes in it, who are we to argue?