Checklist for buying a house for the first time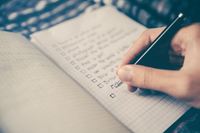 The process of buying a house can be stressful and exciting simultaneously. The investment in a home is a huge commitment and predicting the real estate market can be extremely difficult. Finding the right home will take a detailed list if you want to pick a home that truly fits most of your requirements. The importance of making an informed purchase cannot be stressed enough as a home is the largest investment that many people make during their lifetime.
There is a myriad of factors that will be considered especially for those that are looking to grow their family. If a couple has all of the children that they want they can invest in a home that allows for everyone to have privacy. A couple that is looking towards retirement might find that a condo is the best option for them as there will be minimal maintenance. Creating a checklist that is written out can allow for a decision to be made on personal opinion and features that are desired.
Find A Real Estate Agent You Trust
The decision on which real estate agent you are going to pick can be important. A personal friend is going to negotiate harder for you than a person that simply wants the sale of the home to be completed. Personal referrals are often the best but take the time to see what others have to say about an agent online. Most clients are not going to be hesitant to say something negative if their experience was lacking with a certain real estate professional.
Budget
The budget is going to play a huge role in what home that you are buying. There are families that might want to save more money and downsize or those that want a huge upgrade. The area you decide to live in will be important as areas with the best school districts tend to be far more expensive than those with struggling schools. The features that you pick in your home will depend on your budget as a 6 bedroom home in the hub of a city simply is not going to be an option for most budgets.
Homeowners insurance needs to be considered as many mortgage companies will try to find the best deal in order to keep your monthly payment low. Finding homeowners insurance designed for 2021 will take research but there are plenty of great options available. Areas that flood can lead to higher insurance costs and you might have to carry flood insurance which can be immensely expensive monthly.
Estimated Utility Costs
For those people that might live in a colder climate the insulation of the home needs to be considered. Taking a look at previous utility bills is important as a huge electric bill monthly can lead to falling behind on mortgage payments. A home that has a pool will have to consider the water that is used as well as electric as pool pumps can cost a family around $100 a month. Larger pools will cost more and in many climates a pool without a heater is useless for a majority of the year.
Take the time to enjoy looking at various homes and it is imperative that you do not settle. There is a chance that you might want to hold off on buying a home as there simply are not homes that fit your tastes. Budget can be a huge issue as well and waiting a few more years will allow you to put a larger amount of money down on the home. Paying over 20 percent will allow you to save money monthly on mortgage insurance.