Is paying up front for services soon to be a thing of the past?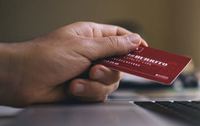 The internet has swiftly changed the way we do a number of things, and that shift has even moved onto transactions. Companies are drastically having to rethink their finance models for the online era, and those that don't are quickly left behind. Take Blockbuster as a famous example. The world-famous movie rental chain relied heavily on charging late fees and was blind to the emergence of subscription-based services like Netflix – which went on to usurp it. Now, because of the saturated and competitive market in every industry, companies are having to initially provide their services for free in order to hook customers.
Online Casinos Leading the Way with Free Offers
The emergence of try before paying has been abundant in the online casino industry, which is jam-packed with competing sites vying for players. The sector is famous for offering lucrative bonuses to players when they sign up, and these promotions seem to be getting better every year. Indeed, if an online casino can't offer new players some sort of free incentive, they will simply play games elsewhere and the site will end up going bust.
According to Betpal, casinos with £5 minimum deposit are becoming quite rare, but there is a lot of good stuff that comes with this initial payment. Players get some serious bang for their buck with the £5 deposits, as there are match bonuses and free spins with a lot of them. A number of modern casinos such as 888 are now providing no deposit bonuses as well, and these allow players to test out the site first while at the same time having a chance to win. This is the best of both worlds and could be a common theme of online casinos in the years ahead.
Some of the Biggest Brands Give Free Testing of Their Products
Free trials have become ubiquitous for businesses that run subscription services. Netflix is a prime example that this model can be extremely successful. The streaming platform gives new users a 30-day free trial to see if they like what it has to offer, and if they want to cancel during this time it doesn't cost them any money. This is obviously working well, because the TV and movie giant is now worth a whopping $194 billion.
Other streaming services like Amazon and HBO GO have had to follow this model in an effort to compete with Netflix. Amazon Prime has a 30-day free trial, while HBO GO usually comes with a 7-day grace period depending on which country you are located in. In terms of music streaming, Spotify, which has a tight grasp on the music market, also provides listeners with 30 days free at the start.
These major companies are setting the tone when it comes to the new way of performing transactions. The modern internet user is becoming accustomed to a try-before-you-buy approach, and it could mean that this will be the only successful model for businesses in the future.