The innovative tech hogging the limelight in 2020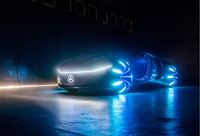 We're living in a world full of constant, groundbreaking innovation. Whether it's technology helping to revolutionise waste management or a satellite navigation system enabling us to arrive at our destination quicker, technology is a massive part of modern-day society. We all use some form of it, right?
A quick look at the progress made with our mobile phones, televisions and tablets will highlight just the tip of the iceberg in terms of the remarkable progress made in recent times. Our cars are better than ever before, we're able to experience console-quality games on our mobile devices, then throw in streaming platforms like Netflix, Amazon Prime, alongside health trackers like the FitBit watch, and we're living in a golden age when it comes to change in our tech.
With some exciting products already catching the eye this year, we thought we'd further highlight the amazing innovation we see in this space by covering some of them.
Alienware Concept UFO
The games industry is thriving at the moment, largely thanks to its more sophisticated devices which is enabling developers to bring us better games than ever before, but also because of the improvements around software and the overall offering from developers in terms of the tools they're using to bring us the very best games possible. Whether you're gaming on a mobile phone visiting a VIP casino for English players or racing on Mario Kart 8 Deluxe against some friends on your Nintendo Switch, one area where gaming has garnered up huge interest has been with handheld devices. The latest causing a stir is the Alienware Concept UFO, which is promising to be the Nintendo Switch of PC gaming. The device doesn't have a release date yet, with little details around production yet either. Still, with detachable cons, an eight-inch display and Alienware claiming that it will be the most powerful handheld device around, the gaming community is getting excited about the Alienware Concept UFO.
Mercedes-Benz VISION AVTR
Looking like something from the future, the Mercedes-Benz VISION AVTR is a car riddled with innovation and a glimpse into what things might look like in years to come. Mercedes-Benz teamed up with James Cameron and the Avatar team to create this wonderful beast. A car with endless amazing pieces of tech, including autonomous driving and a battery which can sense a passengers' energy, it is also covered with solar panels, alongside being able to recognise its driver's breathing patterns. Arguably the coolest thing of all, though, is the fact that the car can roll sideways like a crab on rotating wheels. Now that's innovation!
Lenovo ThinkPad X1 Fold
Folding screens appear to be all the rage these days, although we have had a number of disastrous foldable products over the years. Thankfully, this latest one by Lenovo completely smashes the rest of them out of the park. Lenovo's new foldable PC laptop is beautifully designed, it comes with a mini keyboard attachment hat folds tidily away into the device, coupled with having an excellent 13.3 inches of OLED display, and weighing just 2.2 pounds. If you're a fan of folding screens, the Lenovo ThinkPad X1 Fold could be for you.
Razer Tomahawk
Buying a DIY desktop PC has proved hugely popular in our modern-day world, as users like to alter and customise a machine to create their dream PC. Aiming to become the best of the best, the Razer Tomahawk is modular and therefore requires no tools, it packs a punch with its powerful and very compact Intel computer and impressive graphics, plus it's easy to transport thanks to its compact size.