The growing salaries of esports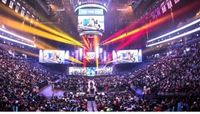 The landscape around professional gaming has been changing in recent years – just a decade ago many players were playing for small amounts of prize money and sponsorship often without the promise of any financial commitment from an organisation. Things have changed very quickly, however, the prize pool for bigger tournaments has increased dramatically, as the highest paying in DoTA2's The International is well over $30 million, and player salary caps have also increased alongside the increase for prizes. Pay-outs for third parties have also increased dramatically, the growth of esports betting in particular has created an in demand market with a growing number of services, you can find them here offering more attractive odds to go along with these new big star signings. But who holds the biggest salary in esports?
The C9 CS:GO Roster – In the secretive world of player contract negotiations, new team lead HenryG took a step outside of the normal approach when signing the new five man roster for Counter-Strike by announcing the value of the contracts. With a commitment of a little over $6 million, it is the first time in esports that salary negotiations have been so public – es3tag had been announced at a value of $2.1m over a three year deal, the NA youngster of floppy was signed for $432,000 over three years, the star AWPer woxic deal was valued at $1.36 million over three years, the young Brit Mezii for $426,000 over three years, and the veteran in-game leader Alex signed for $1.65 million over three years. For some of these players, it is a huge start to the career being so young, and for the veteran players who may have been used to the lower prize pools and days without salaries, this is a huge step forward.
Other organisations haven't been so forthcoming with the salaries or the buyout prices they've paid for players – this step forward for Cloud9 was justified in bringing more clarity to the scene. A statement by HenryG suggested that if we want to start treating these esports professionals as the star players they are, then there needs to be more willingness to openly discuss things such as salary and buyout as have been seen in more traditional sports, but that isn't to say others haven't given hints about huge salaries either.
One of the more notable cases is likely within Team SoloMids former star player, Bjergsen. Whilst under the TSM banner, the young Danish star was able to string impressive results over a number of years earning a title as one of the best players in North America for League of Legends, and one of the best players in the world – and whilst his salary was never publicly revealed, it is known that he did receive some equity in the brand that he himself helped build, with the franchise estimated at $150 million, that's no small slice of change in the world of esports, and certainly helps pull the expected figures up – perhaps this will contribute to the transformation of announcing player value, but numbers are certainly increasing.