5 games that match your gaming style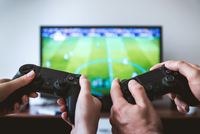 The advent of the internet has dramatically changed many industries, and the gaming industry is no exception. Today, thanks to the internet and modern tech innovations, we get to choose from a vast library of games, with seemingly limitless options.
But, finding a new game doesn't need to be overwhelming at all. Actually, there's a good way to find the next, best game for you, and that is through understanding your gaming style. With that in mind, we have chosen some of the best games for five different players.
Live Casino Games
Online casino games are perfect for anyone that likes to play games of chance and enjoys playing games for real money. Live casino games, on the other hand, are a good choice for players that want to experience casino games in a realistic setting, with a human dealer.
But, finding the right casino for you can get tricky. That's why it's recommended to read more reviews about different casinos and games from guides like 777 Casino, for example. It will help you to get a good idea of what you can expect when you sign up on the casino site.
Of course, online casinos have invested in a rich library of games. So, there's definitely no shortage of titles. This means you can play in real-time poker, blackjack, craps, baccarat, roulette, and many other games.
Sports Games
Sports games are great for sports fans that also want to play games that translate the excitement of different sporting events. Some titles that are worthy of your attention in this category that is if you like basketball and football are NBA 2K19, FIFA 19. Both games feature outstanding graphics and famous players.
Social Network Games
Social network games are the obvious choice for people that want to connect with other players and are equally interested in being part of a community as they are about the game. They are accessible on social media networks and have become popular in recent years. Some of the more popular titles are FarmVille 2, and Dawn of the Dragons. The main appeal of playing these types of games is that you get to know other players and share resources with them.
Interactive Story Games
For people that love reading books, and are generally interested a lot more in the story of the game, great options are interactive story games. They function as novels, but your choices in the game influence the final outcome and the fate of your characters. An award-winning title that you should check out is Florence. Florence follows a shy young woman that falls in love and has to make some tough choices.
Historical Games
If you love history and you want to participate in famous battles, then historical games are the right choice for you. Here we recommend checking out titles like Crusader Kings II, and Rome: Total War.
They feature famous battles from different points of history and famous historical people. Rome: Total War, for example, perfectly depicts memorable battles from Roman history, and Roman warfare. On the other hand, Crusader Kings II, includes famous historical figures like Harun al-Rashid, Richard the Lionheart, among many others.