Six tech devices to bring on a vacation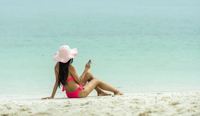 Wherever you're planning to go on your next vacation, there are a number of tech devices you can take with you to make your holiday easier and more enjoyable. Here are six you shouldn't be without.
A Smartphone
A smartphone has become a necessary piece of kit for holidays. After all, smartphone apps can help you with all manner of things, such as making hotel and tour bookings, navigating around cities, finding restaurant recommendations, and locating car rentals. You can also use language apps to make it easier to converse with people who do not speak English. You could even use your smartphone to play slot games and table games at an online casino like Kazoom Casino while you sunbathe and get a tan on the beach. A smartphone has endless uses, so you should not forget to pack yours.
A Mobile Hotspot
When planning to use your smartphone abroad, you need to ensure it can connect easily to the internet. Why rely on public hotspots on vacation when you can take your own Wi-Fi connection with you? Depending on the phone you use, you can save money on international internet plans and data charges by taking a mobile hotspot device with you. Devices like the MiFi 8000 Mobile Hotspot and the Skyroam Solis Lite enable you to have a secure and dependable Wi-Fi signal in any country.
A Universal Plug Adapter
Whatever tech devices you take with you on vacation, you need to make sure they have the right plugs for the sockets used in the country you're traveling to. Not long ago, you had to take a variety of adapters with you to enjoy an international trip to more than one country. Now, you can simply use a universal all-in-one plug adapter. The best ones contain so many options, that you will never be out of luck regardless of the country you visit.
Noise-canceling Headphones
Many people struggle to relax and get into the holiday spirit when their vacations begin with noisy flights. From chattering passengers to crying babies, high levels of noise in a compact space can be unwanted when you are trying to unwind. So, invest in a pair of noise-canceling headphones to solve the problem. You will be able to easily switch off or get some shut-eye. Noise-canceling headphones can also be of use during your vacation to get a good night's sleep at your hotel or when using public transport around your vacation destination.
A Pocket Camera
Everyone needs to take a camera on vacation to record the many happy memories. But you will probably want a better camera than is included on your phone to ensure you capture moments in all their visual glory. At the same time, you probably don't want to cart around a camera that has a bunch of lenses and other accessories. Therefore, it's worth investing in a compact camera. Some are smaller than a pack of cards but still have excellent quality for things like capturing images underwater. A pocket camera is convenient and affordable, and many models have built-in Wi-Fi for all of your social-media-posting needs.
A Tablet or E-reader
If you are planning to hit the beach and lie in the sunshine, you are sure to want some reading material. No longer do you need to try to fit four big paperbacks into your suitcase. By taking your tablet or a specific e-reader device like a Kindle with you on holiday, you not only save on space in your suitcase. You also take an endless number of books with you. Also, the best modern e-readers have battery lives that last up to a month, so you can use them for even long vacations without needing to recharge them.