Great games you can play on a video call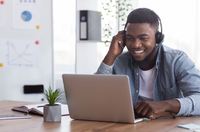 Over the last year or so, we've all become a lot more familiar with video calling apps than we used to be. Whether using Zoom, Skype, FaceTime or any other option, making a live video connection from our laptop, desktop PC or mobile device has become the default way to stay in touch with friends, family and work colleagues.
With our social lives now largely mediated through a screen, we've also had to become a lot more creative in keeping our connections fresh and interesting. We all know that meeting up via an online video link-up isn't ideal, but it's worth it in order to stay safe and healthy mentally while avoiding complete loneliness and isolation. As a result, Zoom Parties quickly became the lockdown norm.
A regular routine
We all know the drill by now. Change into your comfiest loungewear or even your pajamas – or maybe you've decided on a fancy dress theme this week? Grab a glass of wine and make sure you're plugged in or all charged up. Now, what game are we going to play?
Simple games are a great way to keep your regular Zoom or Skype catch-ups from getting stale. They need to be easy for everyone to join in with, not too complicated and with minimum physical requirements in terms of the kit an individual player has to have to hand. The good news is that, with a bit of imagination, the possibilities are endless.
No frills options
The easiest games are those that don't require any props at all, just a bit of preparation. 20 Questions, where you go round the room all answering the same basic questions, is a great way for everyone to get to know each other better. It can be especially revealing when played along with a few drinks! Spice it up by going for 'Truth or Dare' where the refusal to answer an intimate question incurs a forfeit.
The old party favorite Charades is also perfectly adaptable to Zoom, so long as you've got a good visual connection. Alternately, why not try hosting a regular pub quiz? There's always someone in your group who fancies themselves as a quizmaster, and there are plenty of resources online to help you put together questions on a variety of subjects, from pop music to sporting trivia and current affairs.
Casino games
If your friends can access a second screen, then there are many online gaming options that you can enjoy together. While talking on your laptop you can access a world of casino games on your phone, so you can enjoy each other's luck at the roulette table or best of all play slots together.
The Luckyland casino site is licensed across 49 US states and features a huge choice of slots, including many progressive jackpots. You can play for free using virtual gold coins, or use 'sweep coins' that can be redeemed for cash prizes. Get free coins when you sign up using the Luckyland slots' bonus and start playing immediately.
Board games
There's no reason why you can't play your favorite board games over a video calling app, so long as each player has the game in their own home. In some cases, even this might not be necessary, so long as one player has the board and can keep track of where everyone is at. Think Monopoly, Trivial Pursuit or Pictionary. All of these games have become very popular at Zoom parties over recent months.
For the real game geeks, role-playing games like Dungeons & Dragons have made a serious comeback as friends get together to play regular fantasy adventure campaigns week in, week out over Zoom or Skype. Although the rules might seem arcane to outsiders, all you really need are a set of dice and a pen and pencil, plus a friend happy to play the role of 'Dungeon Master' guiding you through the adventure.
These are just a few of the options available to the dedicated Zoom gamer. A quick search online will reveal loads of downloadable resources and ready-made games you can play together online. We haven't even considered the world of video party games yet, where you all play on the same gaming platform rather than via a video call.
Whatever your chosen pastime, there's a game to suit everyone. Mix it up, try out a few options and see what clicks with your group. After a few weeks, Zoom calls will never be the same again!