Profiling the 2021 Mazda3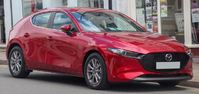 Mazdas are beloved around the world, especially the Mazda3. Its combination of style, impressive safety and entertainment technology, and its spunky engine make it one of Mazda's best sellers year after year.
The 2021 model has some new improvements fans of the old model are sure to love. Please keep reading to learn more about what Mazda has in store this year.
Performance
Whether you're driving in a rainstorm, snowstorm, or a clear summer day, you're going to love the way your Mazda3 moves. Different trims provide different levels of power, but the combination of pep and smarts will take you where you need to go safely and in style.
The Skyactiv-Vehicle Architecture responds to the driver's every intention, while the available i-Activ AWD system has a suite of proactive features to help drivers read the road effortlessly. New for 2021, the Mazda3 Sport comes in a Skyactiv-G 2.5 T Dynamic Turbo engine on certain trims. At the high end, it delivers a truly impressive 250 horsepower and 320 lb.-ft. of torque.
The 2021 Mazda3 Sport GT trim is good for 186 horsepower, 186-lb.-ft. of torque, and gets 7.0 litres per gallon on the highway. Of all the Mazda cars for sale at this price-point, the 2021 Mazda3 delivers the most value and excitement.
Advanced Safety
Mazda takes everybody's safety seriously, and new innovations make safe driving simple. The i-Activ AWD system uses 27 sensors to monitor driving conditions 200 times a second.
The Mazda3 can tell if a back wheel needs more torque due to road slippage, and it will supply the torque just when needed. It can also tell if it's raining, and the vehicle's windshield wipers turn on automatically.
The suite of i-Activesense safety features alert drivers to hazards so they can avoid them or lessen the impact when a collision is unavoidable. It doesn't matter what Mazda3 trim you get. They all come with important features, like:
- Advanced Blind Spot Monitoring
- Rear Cross Traffic Alert
- Automatic on/off headlights
- Rain-sensing windshield wipers
Drivers will have more awareness of potential road hazards to drive more confidently in any conditions and during all seasons.
Entertainment
Driving should be fun, and the pleasure only increases when you can stay connected to the devices we rely on most. Mazda Connect makes it safe to use your smartphone while driving, with hands-free voice-activation.
Stay in touch via text, email, or the phone, and easily listen to all your music. The 7-inch colour touchscreen is very responsive, and you can control it through buttons located conveniently on the steering wheel. When you play your favourite songs in the Mazda3, the strategically-located Bose speakers will make them sound better than ever.
Whether you need to use your phone for navigation or entertainment, the Mazda3 makes it easy.
It's hard to find an affordable vehicle that boasts so many design features or smart innovation. When you consider how much fun this spunky vehicle is to drive and all the advanced safety features, you'll realize there's hardly a more impressive car on the road than the 2021 Mazda3.