3 reasons why some banks don't use ChexSystems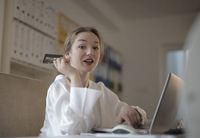 We know they're out there. Banks that don't use ChexSystems don't make a secret of their second chance banking. To clarify the verb "use" here, we're not saying that this 20% of banks in the US is just sitting there handing out checking accounts to everyone while holding a sign that reads, "Step right up, folks! What's ChexSystems? Never heard of it!" No, not quite.
But they want people to know that they are taking a chance on their customers. They have signs outside their branch locations, banners on their websites, and may even SPAM you with emails. They're taking a risk on you to allow you an opportunity you may have thought didn't exist. At least maybe it didn't exist for you. But now it does, and you still have some questions. What's the catch?
Some Reasons You Previously Thought Banks Weren't Using ChexSystems:
- These Banks Think You Deserve a Second Chance and They Are Here for You!
- These Banks Do Not Care About Your Past. This is a Fresh Start.
- Some Banks Just Check Another Consumer Reporting Agency (CRA) and Leave ChexSystems Out of it.
None of those reasons tell us what is actually behind the decision to not use ChexSystems. The decision you are trying to understand is not an easy one for banks to make. They're going to look past a person's ChexSystems report or not look at it in the first place. The real reason they do this is not going to shock you. Maybe you've already guessed it. Money. It's money. Surprise!
Three Ways Banks Make Money from Having You as a Customer:
Let us clarify by defining "you" as follows: a person with poor ChexSystems, Early Warning Services (EWS), or Telecheck scores/reports. We include the two other CRA's—EWS and Telecheck—because it is completely within your bank's rights to check those as well and not tell you. They can do this even if they have already stated that they do not use ChexSystems.
1. They can charge you more fees than those customers with a clear record. The way the banks spin it, you must pay for the privilege of returning to their good graces. After all, it takes 5 years for your record of ChexSystems wrongdoings to be wiped clean.
2. More customers in the door = more money in the bank. Your bank is making money off of you in 3 different ways. In 2 instances, you don't even realize it.
a. Every time you swipe your bank card at a store, the store must pay what is called an Interchange Fee. They pay your bank this fee and the bank decides how much to charge. Despite there being a cap on how much the fee can be, many merchants still wish it was lower.
b. Fees you pay to hold your account with them.
c. Banks use the money in your savings account to hand out loans. They charge interest on the loans. You have been promised that your savings account would grow over time. The interest they charge on their loans is more than the amount that your saving account grows. The bank keeps that money. It is called a Net Interest Margin.
3. They Want You to Stay for the Long Haul. Banks that offer second chance banking aren't just hoping to get a few new customers in the door. They could've called it "do-over" checking and given it a more negative connotation. But what they did was offer the chance to build trust during these circumstances. That's what second chances are all about. And it's widely believed that second chances are fair, especially when earned through hard work and dedication.
So, it is the banks' hope that you will not only successfully bank with them long enough to outrun your ChexSystems report, but that you will bank with them for life. That way, you'll not only put your money into your accounts there, but you'll also apply for a loan at some point. Then they can charge you interest and make a lot more money.
New to ChexSystems?
If you recently walked into a bank to open a new account and found out you had been denied, you may have also had an uncomfortable conversation with the bank manager. That is whose job it was to break the news to you. Your ChexSystems report states that you are too much of a risk. You have fraud on your report from that time you tried to cash a check that bounced.
Yes, even if it wasn't you who wrote the bad check, you are responsible for the fact that it bounced. After all, you endorsed it and got money in return from those banks without chexsystems during these transactions. Then you never made it right, forgot about it and moved to a new town where your old branch wasn't an option. Your ChexSystems report doesn't list the reason it happened and how you tried to make it right. It's a black-and-white picture of your banking transactions.
What Are Your Options Now?
Hopefully by now, you've realized that you're not doomed permanently to a life of stashing cash in a coffee can and re-loading your pre-paid bank cards. The outrageous fees that follow someone who is trying to cash paychecks, pay bills, and do simple, everyday transactions do not need to follow you.
Don't fall prey to a bank's marketing strategies that pull you in by promising a second chance or a clean slate. Recognize for yourself when the fees are astronomical. Shop around and ask which CRA they are using. If not ChexSystems, what?
Don't settle for a spending account or online-only account if that doesn't fit your financial goals. If you know you will want to apply for a loan someday and build up a savings account, research which banks have the best rates of savings growth and interest on loans. And can they advise you on how to build credit? Remember that at the end of the day, banks need to make money just as much as you need a safe place to keep your money. Take control of your banking future by knowing your facts and taking back your banking past.