Choosing the right grow lights for your needs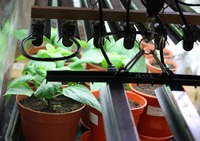 Individuals who are new to growing indoors may become confused when they see the wide array of LED grow lights available today. They need to determine which light will best provide the illumination their plants need. As these lights differ greatly from their metal halide and high-pressure sodium lights, they are venturing into all-new territory. The LED fixtures vary greatly in terms of their heat load, power, shape, and spectrum. Fortunately, other people have already traveled this path and happily share the knowledge they gained on their journey. By learning from these individuals, a person finds they can save time and money while producing an abundant crop of the highest quality.
Three factors must be considered when you need LED grow lights. The nature of the grow plays a role in the lights that should be purchased as does the size of your growing space. Consumers might find they are limited in the types of LED grow lights available to them, although e-commerce sites have made this less of a concern today. A person will find they have access to a range of products that may not be readily available in their area if they are willing to purchase products online. Many people find they have no problem with using an internet retailer as they want the right lights for their crop.
The Nature of the Grow
Before choosing LED grow lights, individuals must know what they plan to grow. Obviously, as a person's skill set expands, they may choose to branch out and try new crops. That's okay. Full-cycle quality LED lights work for any plant and will allow it to develop from a seedling to a flower. However, certain crops benefit from a specific type of light. For example, a person looking to grow medical marijuana for personal use will find they benefit from investing in lights designed specifically for this purpose.
Commercial growers need special lights. They must invest in LED grow lights with ETL or UL certification. A failure to use these lights in a commercial operation could lead to the operation being shut down for not being in compliance. In addition, the grower finds these lights adhere to the highest safety standards, which helps to protect their operation.
Some individuals choose to try their hand at vertical farming. If growing lettuce or greens in this way, the grower must invest in LED modules. This ensures the plants aren't exposed to excessive heat. Furthermore, the energy efficiency of the lights allows the grower to save money or use it to invest in other components for the grow space.
The Grow Space Size
The size of the grow area must be determined before any purchases are made to ensure enough lights are obtained to cover the entire area. Experts recommend 32 watts of actual wattage for each square foot in the grow area when large flowering plants will be cultivated. This rule applies when the plants are contained in a single grow area and the plants being grown require large quantities of light. High-light plants don't need this much wattage for vegetative growth.
Certain plants, in contrast, require little light to grow and thrive. Lettuces and herbs serve as good examples of crops that don't need a great deal of light for proper development. They only need roughly 11 to 18 watts for every square foot of grow space. Nevertheless, the crop determines the amount of light needed, which is why the grower must determine what they will be planting before making a purchase. Additional LED grow lights can be obtained at a later date if the grower decides to expand operations.
LED Grow Light Options
In addition to determining the right lights for the crop and the appropriate wattage, growers must consider the different types of grow lights available today. Growers who will be starting with seedlings will need to invest in full-cycle LED lights. This isn't the case when the grower will only be dealing with plants during the vegging or blooming stages.
Lights intended for use with high-light crops or vegetable growth and flowering can choose single-channel lights, two-channel lights, or programmable lights. Single-channel lights feature an on-off switch while two-channel versions offer a veg and bloom mode. Programmable lights give the grower complete control over the light schedule, intensity, and spectrum. Obviously, the programmable lights serve as the most advanced option and make growing effortless. Today, the LED grow light sector continues to find ways to improve on its offerings. Manufacturers are working toward fully automated panels to make the grower's life easier.
The grow lights come in different shapes, such as bars and bulbs. Certain LED tubes can be used in place of T5 or T8 fluorescent lights, and manufacturers make do-it-yourself kits for growers who want to be hands-on when it comes to every aspect of the growing process.
Warranty
LED grow lights typically work straight out to the box. However, drivers fail, LEDs go out before their expected lifespan, and fans break. Growers need to recognize this and look into lights that come with a warranty. This ensures the lights will remain available throughout the warranty period and the grower won't need to invest in new lights. The manufacturer covers the parts needed for a repair or may replace the light completely.
Warranties vary greatly by the manufacturer. Some manufacturers offer a one-year warranty while others offer 7-year ones. Read the warranty carefully before making a purchase so you know you are getting a quality product. A good warranty allows you to save money on replacement lights and parts. Use this money to expand the grow space, upgrade the lights, or for whatever you desire.
Price
Never purchase grow lights based solely on price. Invest in quality lights for a quality crop. Consider intensity and spectrum before price to get the right fixtures for your needs.
With this information, choosing the right LED grow lights for your operation will be much easier. Don't hesitate to ask questions when comparing lights, however, as the goal is to help you find the right product for your needs. The more information you provide to the retailer, the easier it becomes to achieve this goal.