Jubilee party hosts to check their insurance policies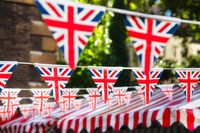 New research from GoCompare reveals that, on the weekend of the Queen's Platinum Jubilee, at least 40% of Brits will be going to see family and friends.
The research asked more than 2100 people how they're planning on spending the jubilee bank holiday, with 40% of responses stating they have plans with friends and family. And of the 2100 people who took part in the survey, 11% said they're planning to attend a street party and 4% said they're actually hosting an event in their local area.
The UK has a long history of organised street parties to celebrate national events and a double bank holiday weekend means a lot of people will be entertaining; street parties, house parties and parades are planned – but how do you know if you have sufficient insurance to compensate you if damage happens?
GoCompare is now reminding anyone who will be taking part in a celebration to remember to check their insurance policies and ensure the right insurance and cover levels are in place, should the worst happen.
Ceri McMillan home insurance expert at GoCompare said: "With the warmer weather hopefully on its way, and covid restrictions eased, people are expecting to celebrate the Queen's Jubilee with friends and family. Ensuring you have appropriate cover will enable you to enjoy the festivities, without worrying about damage to your home.
"It's important to remember that each insurer will cover risks to your home in slightly different ways, so it's not just a case of having a home insurance policy, it's just as important to check you've got the cover you need on your policy, particularly when entertaining.
"Home insurance policies provide for a wide range of items but it's always best to declare specific items of interest, and particularly those you consider to be the most valuable, to your insurer. Anything worth more than the single article limit specified by an insurer, which is usually around £1,000, is unlikely to be covered as standard by your home insurance."
"So, if you do happen to own a particularly valuable piece of jewellery or a collectible item of any kind, it's a good idea to discuss this with your provider so you can put additional valuables insurance in place to make sure those items are accounted for too.
"When entertaining, for peace of mind we recommend you have personal liability insurance. This covers the cost of claims that someone else makes against you for injury or damage while visiting your home, as well as checking if your home insurance covers you for accidental damage. Both of these are usually easy to add to your policy."
The home insurance comparison service has provided some top tips to be confident you're covered when entertaining at home:
- Check your buildings insurance to ensure it includes personal liability insurance, which covers the cost of claims that someone else makes against you for injury or damage while visiting your home.
- Also check your accidental damage cover as many home insurance policies may not include this as standard, but it can be added to a home insurance policy and may cover damage or loss of possessions as a result of an unforeseen accident. However, check your policy wording to see if you are covered for your individual circumstances.
- If you own something that's worth more than £1,000, such as your laptop or jewellery, you'll need to list it separately on your contents insurance policy.
- Review your buildings insurance policy to check how your home insurer treats fire damage, theft and flooding.
- And if you are planning on organising your own street party, check with your local council to see what you need to do, gov.uk/government/publications/your-guide-to-organising-a-street-party.
For some other tips on how to insure your home properly and get free £250 home excess cover, visit: gocompare.com/home-insurance/