Not every body shop is the same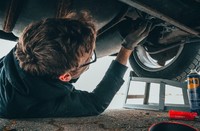 To the layperson, when your car isn't driving right, you need it fixed. Knowing how to drive is different from understanding how to pop open the hood and repair it yourself.
How do you know where to take your vehicle? What are the signs of a great body shop? Please keep on reading to learn more about how to recognize the best.
Many Services in One Place
Some mechanics have a specialty or limits to the kinds of vehicles they service. It speaks to the level of expertise when they can handle just about every type of fix and offer inclusive services.
Industry leaders like AutoOne Service sell, install, rotate, and balance tires. The best do everything from ensuring your wheel alignment is correct, heating and air conditioner repair, and more.
It shouldn't matter whether you have a traditional car or a hybrid or drive automatic or stick. The best body shops can handle about any vehicle that comes their way.
Vintage Cars
When you see a beautiful, unique, foreign car on the road, it's a wonderful thing! However, they stop being so much fun when they need repairs.
Foreign parts may be difficult and often expensive to source. If you can find a mechanic that can service decades-old German cars and 2022 Hondas alike, you know you're in good hands.
High-Tech Bookings
Many people today get around town via their car and get information through their phones. It makes sense to bridge these worlds and book auto repairs through your phone.
Look for a mechanic that offers the convenience of online bookings. All you'll have to do is submit some brief contact information and summarize the issue with your car so the mechanics know what needs to be fixed.
Finding a trustworthy mechanic used to be difficult. Now, you don't even need to get off your couch to find the best ones.
Testing Post-Repair
Being behind the wheel is freedom, but the sense of peace of mind expands when safety is a given. The auto shop you entrust with your vehicle should do a full line of testing after the repair is done to ensure everything is safe and works as it should.
There's a difference between fixing the car properly and verifying that all the parts are in tip-top shape.
Fleet Services
Do you have a fleet of vehicles that you depend on to run a commercial operation? If so, you may need another level of commitment from your body shop then you can find just anywhere.
Some garages offer services to cover factory scheduled maintenance and preventative maintenance for your entire fleet. It'll all be on one account, so payments and maintenance are straightforward and streamlined.
People need their cars to pick up groceries, get to work, transport themselves and relatives for visits and errands, and countless more things. Keep your vehicle in excellent condition and get friendly, professional, and affordable services by finding a body shop that meets all the above criteria.