Interesting facts about 3D printing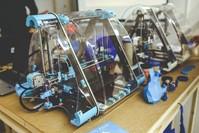 Having found use in a wide number of industries from small bits and pieces like phone cases, right through to being used to build lost-impact housing, 3D printing has become a huge industry. The middle east has become one of the world's leaders in space as 3D printing in Dubai has become huge, but other markets are growing just as quickly – what are some other interesting, perhaps less well-known facts about 3D printing tough?
A wide variety of 3D printing techniques
Most people associate 3D printing with desktop 3D printers and FDM technology but there are a wide range of different types of processes used in the larger industry too – SLS is a type of printing that uses powder for example and a high-powered laser for the printing process, SLA printing is a resin-based printing technique which has been around for closer to five decades.
As different types of manufacturing grow, the numerous 3D printing techniques will also grow to meet these different requirements and could lead to the evolution of some 3D printing techniques that we haven't yet with different properties focused on speed or quality instead.
3D Printing is older than many realize
Most view 3D printing as a relatively new technology, often associating it with the growth in usage of home 3D printers too. It has actually been around for a much longer period of time, however, with SLA printing being one of the oldest forms with commercial printers first being made available in the 80s – it's a long-standing manufacturing process, however, it's only due to newer technologies and the rapid drop in commercial pricing that has led to the growth in popularity and also the misinterpretation that it's a newer technology too.
3D printing uses a wide range of materials
Much like the techniques for printing, there is also a very wide range of different materials used for printing – resin, plastics, and powders but the number of materials being used is growing. Concrete has already been used to 3D print homes and other sorts of things like meat are being 3D printed, and 3D printed wood too – this is still a part of the industry that's quickly growing so the number of materials that may be used or may be produced is growing too and could lead to some very interesting developments.
There's a lot of change still to come to the rapidly growing industry as different countries put different directives in place to encourage the wider use of 3D printing, and with different methods being used on a wider scale too, exciting projects are looking to be just around the corner too.