A walk through the Blackjack Hall of Fame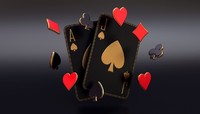 With a game that spans centuries, Blackjack has seen its fair share of wins and losses, with some players celebrating, and others walking away defeated. Some players have walked away with a small profit in their pocket, whilst some have won more than they ever thought possible – so whether you next play online Blackjack or visit your local casino for a game, there is always the possibility you could win big.
Whilst it's important to remember to only bet as much as you can afford to lose, and a win is never guaranteed, these players made it into the Blackjack Hall of Fame, could you?
Read on to find out more.
'Shoeless' Joe - $1.5million
Known as 'Shoeless' Joe, this average guy entered a casino with no shoes on after he was kicked out by his wife. With only a security cheque of $400 to his name, he decided to head to the casino to see if he could change his luck, for the better.
When he entered Treasure Island in Las Vegas with no shoes on, not even Joe knew just how much his life was about to change. That night, he won a staggering $1.5 million playing Blackjack.
However, it is reported that he was playing erratically, splitting 10s and doubling down hard on 12s and 13s. He was so reckless in the way that he played, that Joe eventually lost every single penny.
Unknown Taxi Driver - $132,000
This next win is like something out of the movies – an unknown taxi driver awoke one morning from a dream of winning at a casino. Describing himself as not much of a 'casino guy', he believed his dream to be a sign, rather than just a dream, so he told his wife all about it. She was sceptical, but after he explained more, she agreed that he should go to the casino after work and try out his theory.
That evening, the taxi driver headed to his local casino and dabbled in a few games of Roulette. After having no luck with the wheel, he remembered that in his dream, he wasn't sitting at a Roulette table, but a Blackjack table.
After joining a Blackjack table, his luck began to change. He started winning a few hands. He couldn't believe it. Before he knew it, he had $132,000 in winnings.
In just one night, an unknown taxi driver had managed the unthinkable, by literally following his dreams and transforming his life. It is reported that he used the money to completely renovate their home as well as to buy his wife a brand-new car.
Michael Geismar - $470,000
When staying at a hotel in Las Vegas, one morning Michael Geismar, an investment manager, was eating his breakfast when he found his eggs slightly boring. Instead of reaching for some seasoning, he stood up and walked into the casino section of the hotel.
Placing a bet of $300 at the Blackjack table, Geismar didn't double any bets, he just simply raised them each time he won and maintained his wager each time he lost. Although this isn't a strategy we would recommend, it clearly worked for Geismar as he had won $470,000 by lunchtime!