Top 5 things to consider when using call tracking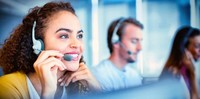 Call tracking software is an essential tool for every business, capable of elevating various aspects of your customer engagement.
Its intricate features can allow you to track, monitor, and evaluate several components of your customer calls, as well as help you create a customer journey map of all the areas of engagement in your marketing activity.
Call tracking can be highly beneficial to your business, but in order to have the most effective call tracking experience, there are a few things you need to consider when using the software.
Read on, to learn the top five things to consider when using call tracking.
1. Which software provider will you choose?
One of the most important things to consider is the software provider you'll choose. Your software will play an integral role in your business, so it's important to purchase leading call tracking services from the right provider. This advanced software can boost your call tracking experience in many ways.
For instance, it can improve your marketing efficiency and collect more accurate data. This will ensure you have all the essential data you need, arranged in a way that best suits you, so you can have full visibility on customer engagement with your business.
Also, with the right provider, you'll know any guidance or assistance you might need with using the software, can be easily given by the professionals.
2. What are your business goals?
Another important thing to consider when using call tracking is knowing what your business goals are.
The software can help many areas of your business, so it'll be useful to establish what you want the software to achieve for you, both short and long-term, so you have a more accurate target for the software's use.
For instance, your main aim might be to increase your lead and sales generation for the next quarter. Alternatively, you might be striving to improve your return on investment (ROI), and have a more cost-efficient marketing approach.
Once you establish your goals, you'll have a better basis on which to start using your software, and tailoring your marketing strategy to reach your targets.
3. What extra features do you want?
Depending on the provider you choose, your call tracking software offers a range of features, and provides you with an array of metrics, so it's important to determine which ones you want to use.
For example, speech analytics might be a feature available to use with your software. This will not only transcribe every call you receive, but also pick up on any specific keywords which are relevant to your business.
With a feature like this, you'll be more in-tune with how your customers are engaging with your business, and will have more insightful data from the software.
4. How will you manage your calls?
There are many different ways you can manage your customer calls with the software, so it'll be good to establish how your business wants to handle them.
For example, there are many advanced call handling features available with call tracking, such as call routing, interactive voice response, and mid-call diverts.
Useful features like this will help you manage your calls more effectively, and ensure every customer receives a good experience when they call you, with every customer call being recognised, valued, and addressed sufficiently.
5. What new strategies will you implement?
An essential element of call tracking is the process of using all the data collected to implement more effective strategies in your marketing.
A prime aim of call tracking is to establish how customers are engaging with your business, at every touchpoint through every channel - particularly phone calls - so you can create better campaigns that drive interaction.
For instance, you might use data surrounding your most engaging campaigns to then create more campaigns that replicate the successful aspects of your previous activity.
With a more effective method of collecting data using the software, you'll be more equipped to elevate your marketing strategies to new heights.
Call tracking software brings a whole host of benefits to your business, but when you add these considerations to the mix, you can boost your business performance even further.