What helps an entrepreneur become an investor - Marina Groenberg's expert opinion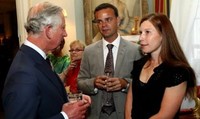 Contents
- Risk diversification
- Capital growth
- Expert opinion
- About Marina Groenberg
Entrepreneurs who think about investing often reflect upon why they should invest in someone else's business, when they can develop their own instead. In this article, we explain why it pays to do this.
Risk diversification
The entrepreneurial lifetime is not infinite. There will come a time when you don't have the energy to run your business. You can pass the company on to your heirs, but there is no telling if they will conduct business as efficiently. In this case, passive income will be a major asset.
If you have only one or several companies but they are in the same economic sector, you run a high risk of losing everything in one day. A recent example of this was the pandemic, during which the entertainment and food service businesses found it difficult to stay afloat, even with entire chains of restaurants or cinemas and not just one establishment. Investors are in a much better position to diversify their risks. Entrepreneurs would be wise to build their investment portfolios in sectors that are not directly related to their main activities.
Capital growth
The return on investment can often be much higher than the profitability of your own business. It is difficult for small businesses to compete with large companies listed on the stock market. High revenue allows big companies to maintain lower prices while making a profit, constantly expand their product range and quickly refocus on other types of products; all of this makes them more stable and economically efficient.
For an entrepreneur, investing is an opportunity to reduce risks and accelerate capital growth; and business experience often helps them make the right decisions. Of course, there is a lot to learn. To avoid losses, it is better to use the services of a competent financial advisor and invest small amounts of money at first. Investing in start-ups is no less risky than starting your own business, so it is something only experienced investors should do.
Expert opinion
What entrepreneurial skills can help you become a successful investor? Marina Groenberg answers, "You need to be able not only to come up with a business idea, but also to shape it into a realistic concept, set yourself a goal and systematically move towards it; you should be able to make decisions, take responsibility for them and stand your ground; you must have the ability to see the big picture and details at the same time, the ability to absorb, analyze and filter information."
Other essential qualities for investors, according to Marina, include modesty combined with courage and the ability to learn from your mistakes and focus on what is important. The expert advice is to always check your intuitive insights against analysis and data from several independent external sources.
The experience of thousands of wealthy people suggests that it is wise and profitable to combine entrepreneurship and investing. You will get the opportunity to become a co-owner of promising start-ups, companies with a century-long history, real estate or other assets. This will help you grow your private assets, protect them from inflation, build up your savings, and create passive income. However, it is important to remember that investing is associated with risks and you must assess them rationally.
About Marina Groenberg
Marina Groenberg is a European businesswoman and investor, co-founder and CEO of Hemma Group, with headquarters in Switzerland. Hemma Group invests in environmentally friendly, innovative and socially significant companies in Europe, the United States and South America.
Marina Groenberg's biography is full of successful business projects in Switzerland and abroad. The Kopter project (a start-up designing a new generation of helicopters) was launched, developed and implemented under Marina's leadership. In 2020, the company became part of the Italian Leonardo Group.
MG is not only an investor, but also a philanthropist. Together with her husband, she is restoring a historic villa in Tuscany that belonged to the sister of the French Emperor Napoleon Bonaparte. The couple opened four museums and a public park on the villa premises where charity concerts and other events now take place.
Marina prefers to spend her free time productively – she loves sports, plays the piano, draws pictures and reads a lot of books. She enjoys traveling and speaks English, French, German, Russian and Italian. She cannot imagine her life without her family, so she prefers to share her leisure time and hobbies with her husband and two daughters – gymnasium student and circus gymnast Amanda, and young pianist Matilda.