Monsoon Fragrance – The essence of style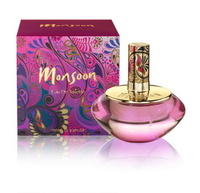 Monsoon may be known for celebrating cultures and clothing from distant shores. Now the company's bohemian spirit has influenced its new signature scent – Monsoon Fragrance. Over the years, Monsoon's unique ethnic origins have shaped the brand it is today and the fragrance is the natural next step on its continued journey.
Monsoon's roots played an integral part in its development and a warm, inviting and luxurious fragrance emerged bringing a new twist of inspired elegance.
Harmonious rhapsodies of Neroli and Bergamot are infused with Morrocan Rose Oil for a distinctive fusion that is richly scented. Base notes of eastern spices with a hint of warm precious woods and hot amber oils complement undertones of Bourgainvillea Petal. Expertly blended, this exquisite fragrance characterises the exotic heritage that is deeply embedded in Monsoon's history.
Beautifully packaged, the flamboyant paisley design was drawn from the Monsoon archives and re-worked with a contemporary twist to capture the vibrancy and femininity of its identity.
In partnership with Bronnley, the luxurious collection includes a sensual Bath & Shower cream, a richly indulgent Body Lotion and a delicately fragranced body spray.
Indulgent fragrance never goes out of style and the Monsoon fragrance is a timeless balance of exotic spices, delicate sweetness and underlying warmth that embraces the unique world of Monsoon.
To view the range in full visit bronnley.co.uk/monsoonfragrances.