Canary Wharf's 45 storey residential landmark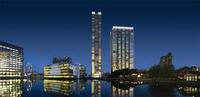 Young Group announces the launch of The Landmark East Tower in Canary Wharf. The iconic 45 storey tower will rise to 140 metres, making it one of Europe's tallest residential buildings, and apartments are available from £355,000.
The release of the first apartments in The Landmark East Tower follows the overwhelming response to Young Group's launch of its sister tower, the 31 storey West Tower, in December 2006 (which is now fully sold out).
Situated adjacent to the West Tower, apartments in The Landmark East Tower will be finished to an equally high standard with floor to ceiling glass, integrated kitchens, quality appliances, marble bathrooms, comfort cooling throughout and wooden floors. The two towers also share equally generous layouts.
Due for completion at the end of 2010, it is the aspect of the stunning East Tower at The Landmark which differentiates it, with a large proportion of one bedroom apartments benefiting from east/west orientation and river or Canary Wharf/dock views.
The Landmark is situated at 22 Marsh Wall, only 4 minutes' walk from Canary Wharf's financial centre. It is ideally positioned to appeal to the area's burgeoning workforce, which is set to more than double, to 200,000 within the next 10-12 years, making it an excellent investment proposition.
Furthermore, the Landmark will be a destination in its own right, featuring a central piazza with a choice of quality restaurants and shops, a residents' gymnasium, secure underground parking and 24 hour concierge/security.
Neil Young, Young Group's CEO, points out, "The tremendous interest already generated by The Landmark is testament to its premier location and quality, and highlights the stark difference in value offered at comparable residential developments in Canary Wharf."
Canary Wharf's strength as a global financial centre is already cemented and there is no respite in the demand for commercial space. In April 2009, KPMG will move into a new 15-storey headquarters to be built at 15 Canada Square, and Fitch Ratings, the global credit ratings firm, will move into £290m purpose-built offices at the end of 2010.
Young explains, "We believe that the fundamentals for investing in Canary Wharf remain strong; in particular a lack of development land in the prime are and an ever-growing pool of eager purchasers and tenants a ensures that The Landmark represents an excellent opportunity for long term wealth creation."
All 276 apartments in the 31 storey West Tower have now been reserved and The Landmark development is already gaining a reputation as one of the most desirable residential locations in Canary Wharf. Indeed, three years ahead of completion, the project is to receive two national awards in the prestigious Daily Mail UK Property Awards 2007, in the categories of Best High Rise Development and Best High Rise Architecture.
Young Group has released an initial four floors within the East Tower, (11th, 19th, 26th and 34th), offering purchasers a wide choice of suites, 1 and 2 bedroom apartments, priced from £355,000.
Designed by award-winning architects, Squire and Partners, The Landmark is being developed by Chalegrove Properties and will incorporate the latest in energy saving green technologies including a wood-burning biomass heating plant to reduce carbon emissions.
For further information, visit thelandmarke14.com.