Solar powered homes trialled in Warrington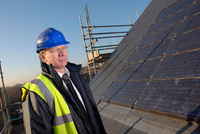 New homes at Carrington Park in Warrington are being used to trial solar power technology to assess the potential energy saving benefits available for homeowners and help tackle climate change.
Countryside Properties is using its Carrington Park development to examine the viability of alternative energy sources as a means of saving money on fuel bills whilst also reducing carbon dioxide emissions.
Two four bedroom townhouse properties are being fitted with solar thermal panels and solar photovoltaic tiles that use the sun's heat to provide hot water and electricity to the home.
The homes will be sold with the solar technology at no additional cost to the homeowner and Countryside Properties will assess the energy bill costs for the property over a 12 month period. The results will be used to fully understand the impact the technology has on a home's energy efficiency with a view to rolling it out across other Countryside Properties developments.
Peter Redgwell, Countryside Properties' Technical Director explained:
"Government legislation now demands that house builders reduce the environmental impact of new developments by building homes that generate clean renewable energy at the point of use. Planning permission for Carrington Park in Warrington was granted before the new regulations took effect, but we wanted to use the site to investigate the most effective way of utilising alternative energy technologies and ensure that future developments reduce carbon emissions in ways that are of maximum benefit to the homeowner."
Homes currently account for 27% of the UK's carbon emissions and the new legislation forms part of the government's intention for all new homes to be zero carbon by 2016 in order to meet its target of a 60% carbon reduction by 2050.
On one property, two solar thermal panels covering a surface area of 5 square metres will be integrated into the rear roof slope facing South East, in order to maximise exposure to the sun. These panels contain a liquid which absorbs the sun's heat. Connected to the property's hot water cylinder, this is used to warm up the water inside. A controller then measures the temperature of the water and if it isn't hot enough the boiler will fire as necessary.
The second property will be fitted with 12 solar photovoltaic tiles covering 8 square metres across the rear roof slope again facing South East. Semi-conductor materials within the tiles generate an electric current when exposed to light and this is converted to electricity for use in the home via a converter in the property's roof space. This electricity supplements power supplied from the national grid but because it is pulsed differently, will always be consumed first, saving the homeowner energy costs.
Carrington Park is situated on Firth Boulevard, off Battersby Lane in Warrington. Studio apartments and 1, 3 and 4 bedroom homes are available and prices at the development start at £93,950.
For more information visit Carringtonparkwarrington.co.uk.