Your own slice of history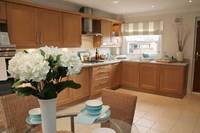 Described as the jewel in the crown of Northumberland, Corbridge is a town steeped in history and ideal for family living. However, only one property remains at The Chains, a development by Charles Church.
Set within the traditional surroundings of the development, fitting to Corbridge, sits the fantastically impressive Edlingham housetype, a three storey five bedroom home built to the exacting standards so familiar to the Charles Church brand - excellent use of space, fine finishing and a particular attention to detail.
Priced at just £375,000, this is a bargain made more appealing because Charles Church has now introduced their Part Exchange scheme to the sale of the property, which effectively means they will take on and sell your property for you, taking away much of the pressure that goes hand in hand with the moving house.
Corbridge is well known for its quaintness and boutique style shops, this is complimented by being just 18 miles from the vibrant city of Newcastle.
For further information visit Charleschurch.com.