TV appearance for Redrow's Gartcosh homes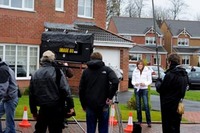 Redrow homes in Gartcosh, North Lanarkshire 'star' alongside TV presenter and game show host Carol Smillie and a colourful cast of supporting actors in a new commercial promoting the People's Postcode Lottery. Heathfield Park, in Gartcosh, a development of 300 new homes completed last year by Redrow provides the perfect backdrop for the TV commercial, which will air in the Scottish TV and Tyne Tees areas.
The People's Postcode Lottery is a subscription based lottery that supports local charities in Scotland, the North East and Yorkshire.
Well known in Sweden and the Netherlands, internationally the People's Postcode Lottery operation has contributed over £2 billion to charitable projects and organisations throughout the world. This funding has enabled valuable work to be carried out in the areas of regeneration and community, poverty relief, children's well-being and nature conservation.
In Scotland the lottery is run to support Scottish charity partners: CHILDREN 1st, Maggie's Centres and Scottish Wildlife Trust. Between them these three causes have already received over £1 million thanks to the People's Postcode Lottery.
The lottery is also boosted by a weekly game show on STV, hosted by Carol Smillie, where four quiz teams compete for cash prizes in three knock-out rounds and an exciting Postcode Money Ladder final.
Residents at Redrow's Heathfield Park found themselves caught up in the drama when their homes were chosen to feature with TV presenter Carol. In the commercial, Carol explains the benefits of the People's Postcode Lottery to different people as they open their doors to her.
Daniel Healy, producer for Lucid Images, who made the commercial, said: "We needed an 'every day' street that matched the lifestyles and aspirations of people who play the People's Postcode Lottery and would look good on TV. We scoured central Scotland for suitable locations and decided that the homes in Gartcosh were ideal."
The Heathfield Park development saw Redrow regenerate a 33-acre redundant industrial site to create an attractive development of two, three and four-bedroom homes, just eight miles from Glasgow.
Diana Newton, sales director for Redrow - currently building across central Scotland, including new homes at Garncroft Wynd, in nearby Glenboig - said: "We're delighted that the people behind the new commercial for the People's Postcode Lottery chose to use our new homes as the backdrop for their campaign. The lottery raises huge amounts of money for very worthwhile good causes and hopefully this commercial will persuade more people to sign-up."
To find out more about the People's Postcode Lottery log on to postcodelottery.com.
For further details of Redrow homes for sale in your area - including Garncroft Wynd, in Glenboig - go to redrow.co.uk.