Shared Equity offers families a helping hand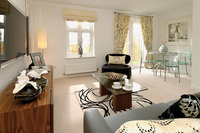 Purchasers at three of Bryant Homes' developments across the west of Scotland are being offered a unique opportunity to buy a stylish family home through the company's Shared Equity* scheme for a limited period only.
This exclusive offer is available at Callendar Rise in Falkirk, Wellhall Grange in Hamilton, as well as Excelsior Gate in Motherwell.
The initiative, which is only available at limited times throughout the year, means that buyers can secure their new dream home for only 85%** of the purchase price. This means that buyers could secure a two bedroom Chester which also boasts a study, and is normally priced from £120,000 at Excelsior Gate in Motherwell for only £102,000 – a saving of £18,000! Alternatively a similar Chester house style is available at Wellhall Grange in Hamilton for just £123,250, normally £145,000.
Under the Shared Equity scheme, homeowners will have the reassurance that they own 100% of their property from day one but as they'll already have paid a 5% deposit, they only need to find a mortgage on 80% of the value. The other 15% is provided rent and interest free by Bryant Homes for up to ten years, at which point purchasers repay 15% of their home's current market value.
The scheme is flexible, allowing purchasers to repay the outstanding amount early or even make smaller one-off payments up to three times during the ten year period. Available on selected two and three bedroom properties at each of the three developments, the scheme means that purchasers looking for more bedrooms, or perhaps a step onto the property ladder to their first home, could consider a move to a desirable location, which would normally be out of budget.
Audrey Ross, regional sales and marketing director, comments: "We understand the challenges our customers are facing in the current market, which is why we're introducing this scheme at three of our popular developments. Our Shared Equity scheme offers a genuine step up for those wanting to get onto or move further up the housing ladder."
For more information visit one of the participating developments – Callendar Rise in Falkirk; Wellhall Grange in Hamilton or Excelsior Gate in Motherwell. Developments are open Thursday to Monday from 11.00am – 5.30pm. Alternatively log onto bryant.co.uk.
* Available on selected properties only. Terms and conditions apply.
** 5% deposit required.