Fordell Castle an enchanting 16th Century Castle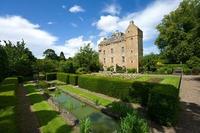 Fordell Castle in Fife, widely known as the home of the late Sir Nicholas Fairbairn, has been put on the market, with a baronial title, through Savills and Knight Frank.
The castle occupies a private – almost secret - setting in the midst of 210 acres of mature woodland just four miles from Dunfermline. The castle is set on the end of a promontory with steep banks dropping to the Fordell Burn on three sides, with a high stone wall and an impressive gateway guarding the fourth side. As early as 1210 there was a castle on the site but today's building dates largely from the 16th century. It is an enchanting, small castle, basically a four storey oblong fortified house, with stair wings on the north west and south east corners of the building and corbelled turrets above
Sir Nicholas Fairbairn bought the castle in 1961. One of the most notable politicians and colourful characters of his day, he was also chairman of Historic Scotland. His knowledge of and empathy for historic buildings meant that the restoration of the castle and gardens was carried out not only sympathetically but also with great flair. After his death in 1995, his widow sold Fordell.
The current owners have been in possession since 1999 and have restored the castle to its original glory. Every room has undergone extensive restoration, as has the magnificent St Theriot's Chapel in the grounds. The gardens, Sir Nicholas' pride and joy and which are of huge historical importance, have also been restored in exemplary fashion. They offer a well balanced range of superb formal garden and woodland with hidden walks, formal ponds, two waterfalls and an array of exotic and protected trees and plants
Jamie Macnab of Savills comments: "Fordell Castle is a rare property, architecturally and historically important, but on a liveable scale, and in fantastic order. It's going to appeal to an international market, and offers elements that wealthy buyers look for – prestige, privacy and a high level of security, which is already in place, as well as easy access, being only 10 miles from Edinburgh Airport. It's a trophy property, and I would certainly not rule out a Scottish buyer." Offers over £3.5-million are invited.
For further information, visit savills.com.