Site Manager secures top training award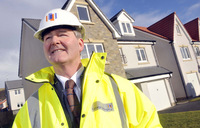 Danny McNee, one of George Wimpey East Scotland's experienced site managers based at the company's The Inches development in Burntisland, has made company history as the first George Wimpey site manager in Scotland to complete the highly-regarded NHBC NVQ level 5 training course.
On the Scottish Qualifications Authority (SQA) scoring system this is the equivalent of an Honours or Masters Degree, and it also advances Danny's goal to be a member of a number of professional bodies including The Charted Institute of Building (CIOB).
The NVQ programme (levels 1-5) provides intensive development and assessment leading to a nationally recognised qualification for industry practitioners. In the construction and housebuilding industry, NVQs are acknowledged as the benchmark qualification for proving occupational competence, and form the basis for the Construction Skills Certification Scheme (CSCS).
Completing and achieving NVQ level 5 places Danny in a unique position as George Wimpey's first site manager in Scotland to have ever secured this award, which is something he's rightfully very proud of as he explains: "The NVQ Level 5 delivered by NHBC is based on National Occupational Standards that are supported by one-to-one coaching from a qualified assessor, there are 5 core units and five optional units that you as the candidate can choose to study.
"It's an intensive programme of activity that requires you to demonstrate competence in a broad range of construction related activities, and I've really enjoyed the challenges that it's presented to me."
The NVQ programme is a great way to complement George Wimpey's highly regarded in-house training as Danny continues: "Studying an NVQ with NHBC allows you to closely examine processes and management systems of the business, allowing you to understand how every part of the business fits together. Rather than simply following processes - through a series of workshops and building a portfolio of evidence and work to support your learning - you can get under the skin of how things work."
Danny's a keen advocate of training and development to achieve your personal goals as he continues: "You'll never realise your full potential unless you put yourself forward for new challenges. Ongoing training and personal development allow you to gain confidence that creates a readiness for progression if the opportunity presents itself, and I can't thank George Wimpey enough for their ongoing support of my training.
"Plus, I'm so impressed with the NVQ programme that I've recommended that several of my assistant managers begin studying at various levels – giving them the confidence to develop the skills they will need to maximise their potential as the construction and house-building industry continues to evolve."
The NHBC in Scotland is also delighted that Danny's achieved this award as Tom Anderson, Regional Training Manager for NHBC adds: "This is excellent achievement for both Danny personally, and George Wimpey collectively. Danny's award would be the equivalent of an Honours Degree or Masters Degree within the Scottish education system and he's set an excellent example for his peers to follow."
Adding his congratulations, Ewan Robertson, Production Director for George Wimpey East Scotland said: "Danny's commitment, drive and passion for the industry is evident in his willingness to continually strive for excellence. He is an excellent ambassador for George Wimpey in Fife and indeed Scotland, and we're very proud of what's he's achieved in securing this award."
To check out the range of homes that Danny and his team are currently building at The Inches in Burntisland in Fife you can visit the showhomes which are open Thursday to Monday from 10am to 5.30pm or visit Georgewimpey.co.uk.