Former dancer makes buying first home a waltz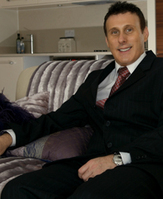 Rumba down to Redrow's 'Debut' development in North Cornelly and their nimble footed sales advisor can offer all the advice you need to buy your first home. Former professional dancer Paul Gilbert, 42, is Redrow's new sales consultant at the Debut @ Dôl Gorwel development, which is aimed specifically at first time buyers with prices starting from under £60,000.
Experienced in the field of selling new homes, Paul has previously worked at other Redrow developments in his native South Wales but prior to that he was on tour with his dance company in the USA.
Paul said: "I moved back to South Wales and joined Redrow about a year ago but before that I'd been living in London and touring the USA with a dance show. It was a bit of a culture shock leaving that life behind so I decided a job as a sales consultant was ideal because it involves meeting lots of new people and I'm always kept busy with new customers, especially here in North Cornelly."
So confident was Paul in the quality of the Redrow brand he even chose to purchase a Redrow home at the housebuilder's award-winning Celestia development in Cardiff Bay.
He said: "Redrow has a reputation for quality and customer service and here at Dôl Gowel we are offering a unique first-time buyer product with our 'Debut' range of homes. All my customers are just starting out on the housing ladder and it provides great job satisfaction to be able to guide them through the process and see how happy they are when they move into their first home."
Although Paul has now stopped dancing professionally, he still keeps up the hobby teaching teenagers jazz and tap-dancing.
He added: "It's obviously a big career change coming from a dancing background to selling homes but it's something I really enjoy. I've always had a big interest in property, I really enjoy the contact we have with the customers and my colleagues are all brilliant."
Prices of Redrow's multi-award winning Debut range at Dôl Gorwel start from less than £60,000. Purchasers have the option to defer 10% of the initial purchase price for up to 10 years as an interest free fixed sum; and there's also a single monthly service charge that covers gas, water and electricity bills as well as external maintenance, to make budgeting easy for first time home owners.
A beautifully decorated and furnished show home gives buyers the perfect opportunity to envisage themselves living in one of the sought-after Debut homes.
Paul added: "Debut is definitely a winning formula for people who otherwise could not afford to get onto the property ladder - and certainly not with an easy to maintain, brand new home and all the benefits that brings.
"The monthly service charge makes it easy for buyers to budget for household bills - and even includes the window cleaning. It's home ownership made simple, as well as affordable."
One-bedroom homes are available from just £59,995 and two-bedrooms from just £106,995. Buyers also get the reassurance of a 10-year National Housebuilding Council 'Buildmark' warranty.
Debut offers stylish, contemporary designs and the properties are built to high quality standards, with sustainability and energy efficiency a key factor. Much of the cost-saving comes from the use of lightweight structural steel frame and other modern methods of construction, which speed up the build programme without compromising on quality.
Communal heating and hot water systems also bring cost savings, whilst replacing private gardens with contemporary shared outdoor space - looked after by Redrow's own management company - means homes take up less land than conventional homes, whilst inspiring a sense of community.
The marketing suite and show home at Debut @ Dol Gorwel are open Thursday to Monday, 10am to 5.30pm. For more information log on to Redrow.co.uk.