Home ownership made 'easi' at Dol Gorwel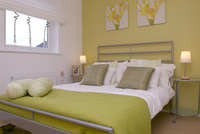 Getting on the property ladder for less than £50,000 may sound impossible, but not if you choose one of Redrow's award winning Debut homes in North Cornelly, near Bridgend.
The Debut @ Dôl Gorwel properties are now available with up to 25% of the initial purchase price deferred for 10 years.
This means a single storey, one-bedroom property is available for an initial outlay of just £48,375; and a two-storey home with two double bedrooms and a light, bright open-plan living space above is available from as little as £70,125.
The balance is provided as an interest-free loan by Redrow to be paid back when the home owner has more funds available or if they sell up to move on.
Designed with first time buyers in mind, the Debut properties are also sold with a single monthly service charge to cover all utility bills – water, gas and electric – as well as external maintenance and window cleaning, which makes it much easier for those new to owning a home to manage their finances.
And, being brand new, the Debut homes are easy to maintain, require no costly renovations or repairs and are more efficient and therefore potentially cheaper to run than an older second hand property.
Rachael Davies, area sales manager for Redrow Homes (South Wales), says: "Debut is an innovative and award winning concept that makes home ownership easy and more affordable to achieve. It's great for first time buyers who desperately want a home of their own but still want some time and money to enjoy life to the full.
"And our 25% deferred payment 'easi:buy' scheme means purchasers should be able to get access to some of the better mortgage deals with lower interest rates, even without a large cash deposit."
Redrow's Dôl Gorwel development is close to a small selection of local shops, just four miles from the prestigious seaside resort of Porthcawl and six miles from the bustling town of Bridgend, with all its shops, bars and restaurants. The Kenfig Nature reserve is within walking distance and offers beautiful walks and views over the sand dunes.
The marketing suite and show home at Debut @ Dôl Gorwel are open daily from 10am to 5.30pm. For more information log on to redrow.co.uk.