Site manager says latest award is testament to his team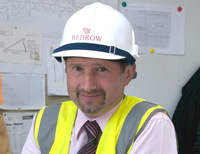 "Every captain needs their crew" says one construction site manager as he repeats his success in an industry-wide competition.
Bridgend man Mike Knight, 44, has received a third 'Quality' award in the National House-Building Council's (NHBC) annual Pride in the Job initiative and says it is testament to his strong team.
One of only 400 site managers from 18,000 across the UK to win an NHBC 'Quality' award in 2009, Mike's achievement reflects the calibre of his site management, including technical knowledge, consistency in the build process and leadership and organisational skills.
Mike, who is currently based at Cae Rebeca in Pontarddulais, near Swansea, and started out in construction as a 17-year old apprentice, has been with Redrow Homes for eight years.
Speaking of his delight at winning the award, he said: "It is great to have been recognised again by the NHBC and the award highlights the consistency of the whole team.
"My site team is very strong and I have enjoyed the cooperation of all the contractors as well as my colleagues at Redrow, which has helped enormously.
"Every captain needs his crew and mine have been fantastic. No task is too big or small for them whether it be cleaning up or complicated ground works and brickwork.
"As for the development, Cae Rebeca has a really nice feel, is well laid out and has very well designed homes."
Soon to celebrate his 25th wedding anniversary with wife Viv, the couple, who live in Bridgend, will attend a special presentation ceremony at Holland House, in Cardiff on October 9th.
The Cae Rebeca venture of 89 new homes in Pontarddulais is a welcoming place for home owners. Local amenities are plentiful, including schools, shops and banks; it's just eight miles from Swansea and within a short drive of the beautiful scenery of the Gower coastline. For those with children, Pontarddulais offers a good choice of schools, both Welsh and English speaking.
Current availability here includes a range of three and four-bedroom properties available from £155,500. For more information log on to redrow.co.uk.