First North East wind farm goes on sale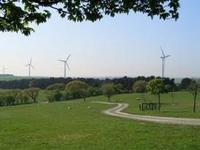 The first wind farm to be sold in the North East goes on the market today, it is on the 759 acre Hedley Hope Farm, in County Durham.
High Hedley Hope Farm is an exceptional livestock and arable farm and is being sold with 3 wind turbines (one named Tina Turner) and with planning permission for 4 more to be constructed shortly.
Being sold by the Wolsingham Office of George F. White this is the foremost commercial farm to come on the market in this area of county Durham for a considerable amount of time.
This unique opportunity for someone to purchase two farms in one is as a result of the current owners Colin and Vivien Whitfield emigrating to New Zealand.
The 759 acre High Hedley Hope ring fenced farm, is large and impressive and comprises of arable land, pasture and woodland. There is a 5 bedroomed farmhouse, with its own indoor 37 foot well, 3 bedroomed bungalow, an extremely large range of farm buildings and an all-weather equine arena. It supports productive herds of sheep and cattle. The farm is being offered as a whole or in 6 separate lots, with offers in the region of £3.25 million.
The High Hedley Hope 1 wind turbine development comprises of three 800 kilowatt turbines generating an total average income in the region of £7300 per annum. Phase two of High Hedley Hope Wind Farm, with a further four 1.3 megawatt turbines, projected to produce a total average income of £24,000 to £27,000 per annum is under construction with completion due in May 2008.
Andrew Entwistle of George F White, who is managing the sale, is quick to point out the advantages of this fine farm; "High Hedley Hope Farm is an established and productive unit in a good location, with good access to regional centres. The houses and buildings are in excellent condition, as are hedges and walls. The wind farm provides additional income, which is welcome in a time when prices and support for agricultural incomes can fluctuate. Opportunities to purchase a farm of this calibre are increasingly rare. This is a very good working farm, and an ideal investment opportunity. We expect it will create a lot of interest."
This farm located 2 miles from the A68 near Tow Low is in an area of county Durham renowned as a very good stock rearing area. It is currently used for arable and mixed stocking and equine purposes. As such the farm has excellent livestock buildings and equestrian facilities including newly built 54m x 27m and 54m x 26m steel framed buildings, together with other useful buildings including grain storage and implement sheds. There is also equestrian facilities with a stable block, outdoor surfaced riding arena and lunge area.
For more information or to arrange a viewing please contact Andrew Entwistle or Claire Thorogood at the Wolsingham Office of GFW, tel 01388 527966. Viewing is strictly by appointment.