'Top class' land acquisitions in South Wales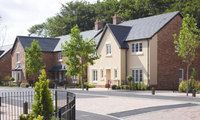 Redrow will be providing eager homebuyers in South Wales with even more superb homes after acquiring four new sites to add to its impressive portfolio.
The award-winning housebuilder has purchased two sites in Abergavenny, one in Oakdale, near Blackwood, and one in Cross Hands, near Carmarthen, expected to have a total finished value in excess of £32 million.
Peter Thomas, land director for Redrow Homes (South Wales), said: "We are delighted to have acquired four excellent sites and can continue to provide homebuyers in South Wales with a superb selection of new homes in great locations. The two sites in Abergavenny extend our commitment to the town, whereas the Cross Hands venture will be our most western development. The Oakdale scheme adds to our existing developments in that area."
The development on Croesonen Road, Abergavenny, will consist of 20 new executive homes and five affordable homes, with a finished value of circa £8 million.
Redrow will also be making financial contributions towards building a local children's play area near the site and to adult recreational facilities in the local community.
Nearby, off Ross Road, Mardy, Redrow is seeking detailed consent for a range of luxurious five-bedroom detached homes and a two-bedroom semi-detached house and, subject to planning approval in the coming months, hopes to start construction work shortly afterwards. The finished value of the development will be around £4 million.
In Cross Hands, Carmarthen, Redrow recently purchased a 4.5 acre site on Llandeilo Road, which already benefits from outline planning permission. Detailed planning permission will be submitted in February/March for a scheme consisting of one and two-bedroom apartments, three and four-bedroom semi-detached and detached homes.
The total value of the completed development will be in the region of £12.5 million, and will consist of 10 per cent affordable housing. Building work is expected to start in the summer with the first homes due to go on sale at the end of the year.
Elsewhere in South Wales Redrow acquired an area of land formerly occupied by the allotments in Oakdale, which have been re-homed nearby. Planning consent is now being sought for 35 new homes, which will include a range of two, three and four bedroom houses, with an anticipated completed value of £6.6 million.
It is hoped building work will begin in spring, with homes going on sale during the summer period.
Peter added: "We are always on the look out for new sites to develop so we can continue to expand the company's portfolio of family homes, first time buyer properties and contemporary city centre schemes."
Redrow's properties in South Wales are among 5,000 new homes built each year across England, Scotland and Wales.
For information about new homes for sale in the region visit Redrow.co.uk.