Twice the appeal with Charles Church in Risca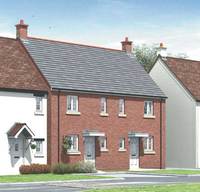 Purchasers eager to progress up the property ladder but daunted by the jump from a one bedroom to a three bedroom house need look no further - Charles Church have come up with a solution in the two bedroom Boyton housetype at their Millbrook development in Risca. Prospective purchasers are invited to take a look at all that this prestigious housebuilder can offer them at the open weekend, held over the August bank holiday.
The two bedroom Boyton is an excellent choice for any buyer, comprising a spacious living and dining room with French doors leading to the garden and an en-suite to the master bedroom. The kitchen features a selection of appliances, such as a built in oven, hob and extractor hood and the bathroom is fitted with white sanitaryware. Further homes available at Millbrook include one bedroom coach houses and three bedroom semi detached and terraced homes, each finished to the high standard expected of Charles Church.
Purchasers can own a Boyton for only £125,000, or alternatively are able to take advantage of Charles Church's FairShare shared equity scheme, whereby Charles Church pay 25 per cent of the price of the house. The purchaser, however, retains 100 per cent of their home, and the only stipulation is that they pay back the remaining 25 per cent when they sell or after ten years, whichever is the sooner. Using the shared equity scheme, The Boyton can be purchased for the appealing price of just £94,000.
Risca offers purchasers an excellent opportunity to live in a rural location only a short distance from the dynamic city of Newport. The town offers a range of amenities, including local shops, a comprehensive school and leisure centre, not to mention the Risca Male Voice Choir and Risca Rugby Football Club.
The multi cultural city of Newport is home to the University of Wales and offers abundant shopping facilities and many restaurants, bars and nightclubs. The city features its own museum as well as historic sites such as the Roman amphitheatre and baths at Caerleon and Tredegar House, a restored mansion dating back to the 17th Century. An area plentiful in green countryside, the Wye Valley, Vale of Usk and Brecon Beacons National Park are all within close proximity.
Newport benefits from convenient access to the M4 motorway, leading to Cardiff approximately 17 miles away and Cardiff International Airport slightly further afield.
Homes at Millbrook can be purchased for just £74,250 using the Shared Equity Scheme. To find out more, log on to Charleschurch.com.