Airline passengers feel the squeeze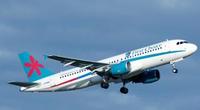 A surprising new survey has found that two thirds of men are too broad-shouldered for their neighbours' comfort in an aeroplane seat of 16 inches wide. In more standard airline seats which measure 17 inches across, about one third of adult male passengers would feel cramped.
The survey was carried out for the travel company First Choice by Bodymetrics, which analysed data from SizeUK, the UK National Sizing Survey.
First Choice issued the results in a report at the ABTA Convention in Spain. It also confirmed that it is using the research to lobby authorities to set an industry-wide standard for defining seat width, to make it easier for passengers to see for themselves which airlines offer the greatest degree of comfort.
Tim Williamson, Marketing Director at First Choice commented, "In 2005, First Choice took a total of 52 seats out of its long-haul Boeing 767 aircraft. As well as giving passengers extra legroom (33 inches in economy), we took out a whole column of seats. However, competitors, such as Thomsonfly, while increasing their long-haul seat-pitch for Summer 2007 to offer a similar service, still fit an extra seat into every row, giving little elbow space. All airlines choose a configuration which is right for them and their business model, but we believe the measurement should be transparent and easy for customers to access."
One in seven women is likely to feel too broad shouldered in the narrowest airline seats currently available – but female passengers are more likely to feel the pinch further down. Based on their width from side to side at the point below the waist where the tape measure is unkindest, nearly one in five are generously enough built to find a 16in seat a tight fit, while only 5.3 per cent could do with more room in a seat that is one inch wider.
In the past, airlines have tended to push extra leg room as a selling point. But while it is common knowledge that people are taller than they used to be, the survey is the first to show just how much wider they have become – the information on shoulder width has never been issued publicly.
The national research of our body size showed that between 1951 and 2002, for example, the average female put on 1.5 inches around the hips, now measuring 40.5 inches. Measured across the shoulders she broadened from 13.8 inches to 14.5 inches. Statistics for men in 1951 were unavailable. However in 2002, the average man, sitting up straight, measured two inches more than women across the shoulders – at 16.5 inches.
The survey shows that a First Choice long-haul economy seat measuring 17.8inches across is roomier for eight out of ten men, compared with just a third of men who match a 16 inch seat width and only half who match a 16.5 seat width. And the overwhelming majority of female passengers (97.5 per cent) would have adequate wiggle room below arm rest level in the First Choice seat.
First Choice will also be the first UK airline to offer journeys on the innovative Boeing 787 Dreamliner, which comes into service in 2009. The design of this aircraft will offer even more space for travellers. It's expected to offer more width per seat than any other commercial airplane – more than 4 cm (approx 1.5 inches) per seat than its nearest competitor. The aircraft will also have wider aisles (big enough for passengers to pass trolleys during meal services), larger windows, larger toilets and larger overhead lockers.