First Choice opens 'Kid's Corner' at Doncaster Sheffield Airport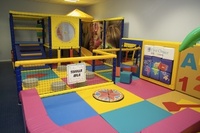 Keeping the kids entertained at the airport can be quite a feat which is why First Choice undertook a recent experience trial at airports across the UK to understand what could be done to make things easier and more enjoyable for families.
As a result First Choice has decided to trial a free new service at Doncaster Sheffield Airport with a view to roll out to other airports if successful. The new Kids' Corner play area was officially opened this month by Very Important (Little) People, the new soft play area appeared to be very well received.
The First Choice Kids' Corner is completely free and open to all passengers flying out of Doncaster not just those travelling with First Choice so no-one needs to miss out. Suitable for children up to the age of 8 years, the soft play area is bight and fun for kids to play, jump, climb and build in a safe environment.
The open area has seating in front for parents to sit back and relax while keeping an eye on their little ones. Here they can enjoy food and beverages from any food outlet in the airport terminal meaning they can base themselves in one place and keep the whole family happy.
Steve Adamson, Senior Innovation Manager for First Choice said "We invest a huge amount of time in listening to what our customers tell us they want when they go on holiday and that includes the time our customers spend in the airport."
He continued "Airports can sometimes be a stressful place especially with a family in toe and we know that holidays are supposed to be a very happy time so we'll keep coming up with ways to keep our customers smiling"
First Choice flies from Doncaster Sheffield Airport to twenty four destinations around the world, including Turkey, Cyprus and Egypt.
For further information or to book a First Choice holiday from Doncaster Sheffield Airport visit firstchoice.co.uk.