TAP named largest service provider in Portugal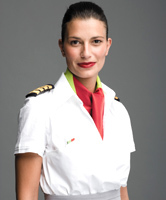 According to analysis run by the Forum Empresarial magazine published this week, TAP is currently the largest Portuguese service provider. This classification is based on its turnover and the increase in revenue observed in 2007 that has contributed decisively to TAP attaining this distinguished position. In 2006 the national airline transporter ranked in third place.
TAP, which has practically doubled its operations since the year 2000, has acquired rising importance within the national economy. Currently it ranks as one of the leading export companies, a position that results from its increased sales abroad where the company saw its revenue increase in 2007 by more than 66%.
On the other hand, its contribution to the tourism sector has been an increasingly relevant one, the result of increased traffic volumes generated by some of the major tourism producing markets for Portugal.