TAP flies to Warsaw, Moscow & Helsinki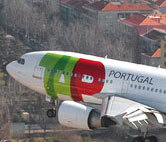 TAP is to fly from Lisbon to Warsaw, Moscow and Helsinki from June of next year with a basic five flights a week to each of the new destinations. TAP will be increasing flights to one a day to the capital of Poland during the peak season from July 22 to September 6.
Luiz Mor, airline transport administrator announced the new destinations during the signing of an agreement with the Portuguese Department of Tourism for access to Support for New Routes in a ceremony that counted on the presence of Bernardo Trindade, Secretary of State for Tourism.
This event was held parallel to the convention of the Portuguese Association of Travel Agents & Tourism (APAVT) that is taking place in Macau.
At the event Luiz Mor considered that "the new TAP connections to Warsaw and Moscow now extend the Company network to two of the major cities in Eastern Europe and seek to meet the needs of markets that are registering high rates of growth and strong levels of demand."
"The beginning of flights to Helsinki in turn means that the TAP destination network now serves all the capitals of Scandinavian countries", Luiz Mor stated.
With these new routes TAP is extending and diversifying its European network, reinforcing its role in the uptake of the flow of visitors to Portugal originating from high potential markets and offering a major contribution to the national tourism sector.
With this TAP now flies to a total of 34 cities in 18 countries in Europe in addition to the nine Portuguese cities served by the Company.
The flights to Warsaw, Moscow and Helsinki will reinforce the sustained increase in the number of passengers transported by TAP across the entire network.
This year between January and October TAP transported a total of around 7.5 million passengers, representing a 14 percent increase in relation to the same period in 2007.