Surfs up for TAP passengers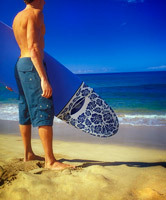 TAP has launched new procedures for transporting surf equipment with the offer of price reductions to the tune of 50 percent for passengers wanting to transport their surfboards.
These new conditions that are already in force enable amounts paid by passengers in baggage transport to be cut by half when dispatching one or more boards with a weight of up to 10kg in an appropriate bag and after signing a declaration of responsibility for these. In addition to this reduction, prices are now charged per bag regardless of the number of boards each one contains and in these cases reflects a discount of more than 50% in the fare paid.
For boards of more than 150cm in length, the applicable fee drops to 37.50€ on European and 75€ on intercontinental flights. Transport is still free for boards of lengths up to 150cm included in the standard baggage allowance.
With this new offer, the result of an agreement established between TAP and the National Association of Surfers (Associacao Nacional de Surfistas), the Company is aiming to meet the expectations of those who pursue the sport, offering them a service that is more convenient and appropriate to their needs.