TAP & SATA join forces to promote the Azores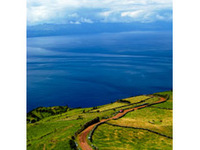 TAP Portugal and SATA have broadened their commercial cooperation and joined forces in increasing a joint offer of flights to new markets, namely the Azores region. Intensification of this cooperation is reflected in the widening of the scope of the code-share agreement that the two companies have maintained since the year 2000.
This now covers a vast network of destinations in Europe and also in mainland Portugal, reflected in the offer of a better service and more benefits for customers as well as contributing to greater visibility abroad of the potential of the Azores as a tourist destination with unique characteristics.
The two Portuguese airline companies have thus increased the number of code-share services covering on the one hand flights made by TAP between mainland Portugal and Europe and providing on the other an increase in direct SATA flights between the Azores or Madeira and Europe. In Portugal, the inclusion of the cities of Faro and Porto in the agreement is also new, served by TAP on departures from Lisbon as well as flights between Lisbon and Porto Santo, operated by both companies.
According to the chairman of the SATA Group Board of Directors, the widening of this code-share agreement offers undeniable advantages for those who would like to visit a destination such as the Azores or Madeira.
"With an increased number of connections that share the same code, the same boarding pass and the possibility of express baggage dispatch, passengers can combine a range of trips with different stopover periods at each destination, enabling new market segments to be reached, generating new and interesting passenger influx, in particular in segments such as MICE, Corporate, Golf & Leisure, that typically look to shorter stays", points out Antonio Gomes de Menezes.
With a view to maximizing the opportunities offered by this partnership and thanks to the development of intensive joint-tasking, TAP and SATA have improved and increased connectivity between their respective operations' networks, hence making it possible to offer a wider and more diversified network, with new destinations that will add more value and options to passengers' trips with each of the two companies.
"TAP is very enthusiastic about the intensification of its cooperation with SATA which has been maintained in a very positive way since the year 2000, enabling both to offer a better service and considerable benefits to its customers", stated Luiz Mor, Administrative Executive at TAP.
Further adding that "with this new impetus and public joint cooperation, both companies are substantially increasing the number of destinations served as well as the level of options and advantages customers are afforded therein, which in the long run will help contribute to increasingly attracting and encouraging a larger volume and range of visitors to the Azores."
In practice, TAP will now add its code to direct SATA flights between Funchal and the European cities of Zurich, Dublin, Stockholm and Copenhagen, maintaining the Funchal-Paris route already offered as a code-share. In addition to these, the Lisbon-Porto Santo leg is also shared and will now be served with regular flights once-a-week by SATA.
Departures from Ponta Delgada will also now be part of code-share flights to the cities of Frankfurt and Amsterdam, served by SATA. Also, with regard to the Azores, TAP and SATA will maintain code-share flights already on offer to London (Gatwick) and Manchester.
SATA, in turn, will now make its code available on TAP flights operated from Lisbon to Porto and Faro, also sharing commercialization of two weekly flights offered by TAP between Lisbon and Porto Santo.
With regards its European network, SATA now runs an extensive number of code-share TAP flights departing from its hub in Lisbon to Madrid, Barcelona, London, Paris and Frankfurt.
Seeking to meet the expectations of their customers, both TAP and SATA will continue to work together and invest in the intensification of interconnections between their networks as a highest priority.