Stay in touch when you're in the sky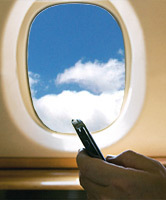 Become one of those privileged to make or receive voice calls or send messages using your own cell phone while travelling on board the TAP "Almeida Garrett" Airbus 319. The result of a partnership with Mobile OnAir, TAP began testing this new option in August 2008.
This system enables TAP customers to make and receive voice calls, send SMS and e-mail messages using their own cell phones in which all that is required is a standard international roaming agreement with your operator with amounts charged the same as those charged for land calls.
TAP is one of the pioneering companies and the first in the Star Alliance to offer its customers Mobile OnAir.
This service is only available on one A319 aircraft the CS-TTL "Almeida Garrett" that flies medium-haul routes and is equipped with a sophisticated mobile network with improved communications' quality and stability.
TAP customers traveling on this aircraft to one of the Company's medium-haul destinations will be able to access this new option until March 31 2009 throughout the commercial testing period.
Installation of the new system on board this TAP aircraft was entirely carried out by the Company's Maintenance & Engineering teams.
Conceived by Airbus and certified by the European Aviation Safety Agency (EASA), this technology consists of installing an advanced GSM network on board the aircraft with a very low transmission power that enables the use of mobile phones with maximum safety without interfering with navigation systems when the aircraft reaches cruising altitude – above 4 thousand meters – via air-land and land-air calls backed up by satellite communications' channels.