Monarch scoops award for Best Charter Airline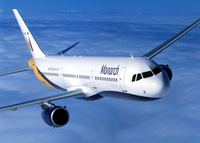 Leading leisure airline, Monarch, received further industry recognition and scooped another trophy for its award cabinet this week, after it was voted 'Best Charter Airline' in the prestigious Travel Weekly Globe Awards. The airline was also shortlisted in the 'Best Scheduled Airline' category.
The Globes, which are voted for by travel agents and are highly regarded within the travel industry follow a succession of awards for Monarch including being voted Best Charter Airline in The Telegraph Reader Awards for the second consecutive year, and winning Best Leisure Airline in the British Travel Awards.
Commenting on Monarch's recent succession of awards, managing director of Monarch Airlines, Tim Jeans said, "This is yet another great achievement for the team at Monarch and demonstrates the strength of the brand in the highly competitive airline-market. Our core values of service and customer care mark us out as industry leaders and this award is further recognition of this."
Monarch currently operates a fleet of 29 aircraft, serving over 100 destinations world-wide. Services are split between scheduled and charter flights, with the airline carrying almost 7 million passengers per year. Monarch is the oldest airline in the UK still operating under its original brand name, and will this year enter it's 41st year of flying.
Full details on all Monarch services can be found on Monarch.co.uk.