What's hot for 2009 - Euro vs non-eurozone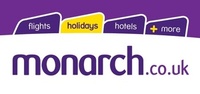 As January draws to a close, award winning travel group Monarch is reporting strong bookings for both flights and holidays, with a number of both euro and non eurozone destinations emerging as clear favourites with the British travelling public in 2009.
Recent reports have indicated that holidaymakers are being lured into booking holidays to destinations outside of the eurozone, such as Turkey and Egypt, as well as to longhaul destinations where the value of the pound is much stronger. Whilst Monarch is also seeing strong demand for holidays to these areas, particularly Sharm el Sheikh, Luxor, Goa and the Maldives, a number of destinations within the eurozone are currently topping Monarch's 'What's hot' destination popularity charts for 2009.
For winter, booking trends indicate that the Canary Islands are proving to be a popular choice for holidaymakers looking to get away from the grey dreary weather in the UK, with the three largest islands, Tenerife, Lanzarote and Gran Canaria all appearing within the top 5 of the 'What's hot for 2009' winter destination chart.
Summer 2009 is also reflecting a similar trend, although the Balearic Islands of Menorca and Mallorca also feature within the top 5 destinations, proving that the appeal of Eastern Med and the Red Sea is still being outstripped by its Western Med counterparts.
Monarch Holidays 'What's hot' – Winter 2009
1. Tenerife
2. Lanzarote
3. Sharm el Sheikh (Egypt)
4. Goa
5. Gran Canaria
Monarch Holidays 'What's hot' – Summer 2009
1. Menorca
2. Dalaman (Turkey)
3. Tenerife
4. Mallorca
5. Lanzarote
Commenting on the booking trends, managing director of Monarch Flights and Holidays Liz Savage said, "Despite early indications that holidaymakers were looking to head east for their holidays this year, the picture to date is somewhat different. The Canary Islands which benefit from year-round sunshine and are only a four hour flight time from the UK, are the surprise destination leaders for both holiday and flight-only bookings this winter, with Lanzarote in particular already 13% ahead of holiday bookings vs 2008.
"The Balearic Islands of Mallorca and Menorca are also performing strongly for summer, particularly the all inclusive resorts which are proving hugely popular with families and now account for 70% of the Balearic bookings. All inclusive holiday options provide fantastic value for money, and our booking trends indicate that families in particular are looking to stay closer to home this year and lock in costs prior to travel".
Monarch operates scheduled and charter flights from a number of UK airports, including Birmingham, London Gatwick, London Luton and Manchester. Scheduled flights operate to destinations throughout Spain, Portugal, Cyprus and Gibraltar, whilst charter services operate worldwide. In addition to flights, Monarch also now offers a huge range of great value holidays, accommodation options, car hire and travel insurance, all of which can be booked via monarch.co.uk.
For further information or to book Monarch flights, Monarch Holidays or Monarch Hotels, go to monarch.co.uk.